SXSW Film Review: 'Hellion'
Kat Candler knows a thing or two about initiation
By Monica Riese, 4:00PM, Sun. Mar. 9, 2014
There's nothing worse than being a misunderstood teenager … except perhaps being a misunderstood teenager whose mom just died, who's on probation for boyhood hijinks, and whose father may or may not lose custody of you and your younger brother.
In her third feature, recently picked up for distribution by Sundance Selects, Austin writer/director Kat Candler tells the heartbreaking story of motocross racer and metalhead Jacob Wilson as he struggles through his initiation into adulthood in the South Texas town of Port Arthur, complete with hard lessons in responsibility, perseverance, and defeat. Castmates Juliette Lewis and Aaron Paul (who stands out in a big-screen role slightly more mature albeit just as downtrodden as Breaking Bad's Jesse Pinkman) both shine in their parental roles, but it's young star Josh Wiggins who carries much of the film on his 15-year-old shoulders. Though his character may hit a dead end before adulthood, we trust this actor has a very bright future ahead.
See our profile on Kat Candler, "Hell's Belle," March 6, here.
---
Hellion
Festival Favorites
Wednesday, March 12, 7pm, Topfer
Keep up with all our SXSW coverage at austinchronicle.com/sxsw.
READ MORE
More South by Southwest
David Chang announced as featured speaker
Brandon Watson, Sept. 30, 2014
'Honeymoon' and 'Thank You a Lot' picked up
Monica Riese, March 28, 2014
More SXSW
Plus Teen Vogue, The Daily Show, and Charlie Rose
Richard Whittaker, Aug. 30, 2017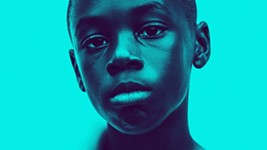 Oscar-winner Barry Jenkins part of first speaker list for 2018
Richard Whittaker, July 24, 2017
More by Monica Riese
Paramount and Stateside programming heats up
April 3, 2014
Announcements from the Austin Film Society
April 2, 2014
KEYWORDS FOR THIS POST
South by Southwest, SXSW, SXSW 2014, SXSW Film 2014, Kat Candler, Hellion, Aaron Paul, Juliette Lewis, Josh Wiggins, Deke Garner
MORE IN THE ARCHIVES