The Favourite
2018, R, 119 min. Directed by Yorgos Lanthimos. Starring Olivia Colman, Emma Stone, Rachel Weisz, Nicholas Hoult, Joe Alwyn, Mark Gatiss, James Smith.
Power is a fickle thing. There are those who hold it that have no idea what it is, and those that grasp for it, terrified of its loss. It slithers between people, and in the The Favourite, the scintillating black comedy of manners from Yorgos Lanthimos, it latches its fangs in deep.
"You are mad," Sarah Churchill (Weisz) says in one of the few moments of honesty from her manipulative mouth. As Duchess of Marlborough and Mistress of the Robes (the highest office any woman could hold), she is the confidante to Queen Anne of Great Britain (Colman). Isolated from the wider world, Sarah is the lens through which the increasingly crippled monarch sees affairs of state, and her only remaining true friend. Or at least that's how Sarah has made her state of affairs seem, and that's how it will remain until Sarah's distant cousin Abigail (Stone) appears. Having fallen on hard times, this former noblewoman just wants a job, but her ambition is no less than Sarah's steely determination, and both know that having access to the queen's ear and bed is the path to their ends.
In works like The Lobster and The Killing of a Sacred Deer, Lanthimos has added a courtly formality to everyday modern life: With this historical drama, he centers on the complex interpersonal relationships between the real Anne, Sarah, and Abigail in the English court between 1704 and 1711.
Historically, Anne only acceded to the throne because she wasn't Catholic, making her reign unusual as one of the few women to hold the British throne alone. That female power dynamic, and how Sarah and Abigail snipe, cajole, menace, flatter, and even bully Anne to get their way is a rare delight. And this is about power in all its forms, where sex and policy and even brute violence are deployed as the moment calls for it. For much of the film the men are either on the periphery (Hoult, gloriously foppish as Speaker of the House of Commons Robert Harley, and constantly furious at Sarah's quiet grasp of the throne), engaged in an endless European war (Gatiss as Sarah's husband, the Duke of Marlborough), or completely unseen (Anne's husband, Prince George of Denmark, lives and dies, unmentioned, offscreen). Weisz dances in her role as a woman always on the edge of power, never tipping her hand as to whether she feels real affection for Anne, or for Marlborough, whom she blithely dispatches to combat. While Stone's Abigail is inflexible in her aim, Sarah knows when to bend like a rapier and when to stiffen like the executioner's axe blade. It's not purely ambiguous what their motivations are – rather, in a sign of great writing, they contain many, often contradictory, impulses. It's what they're prepared to do to achieve their ends, and both actresses give searingly funny and pointed performances, exercises in determination.
By contrast, Colman's Anne is a lunatic. Mercurial, babbling, often confused, a spoiled child in charge of a country. What becomes important, as slowly unfurled by the long-gestating script from Deborah Davis and Tony McNamara, are the multitudinous reasons for her broken mental state – or, as Sarah puts it, that she is stalked by tragedy. As Anne teeters between lucidity and agony, Colman knows how to keep her on just the right side of absurdity.
Not that Lanthimos is afraid of the absurd. That is, after all, his métier. By working (for the first time) from someone else's script, it's almost as if he has more space to concentrate on how ludicrous the formality of everything is – especially when Abigail and Sarah exchange pointed deflections, or a court dance that takes a sudden, preposterous twist that will leave you howling. The seesawing natures of both power and Anne's mind are caught in a score that veers between Handel's baroque tendencies and the brutality of Steve Reich at his most minimalist (the latter the work of Lanthimos regular Johnnie Burn). All this caught in the daring cinematography of Robbie Ryan, who shreds all the conventions of capturing the period, and The Favourite immediately lives up to its name.
A note to readers: Bold and uncensored, The Austin Chronicle has been Austin's independent news source for over 40 years, expressing the community's political and environmental concerns and supporting its active cultural scene. Now more than ever, we need your support to continue supplying Austin with independent, free press. If real news is important to you, please consider making a donation of $5, $10 or whatever you can afford, to help keep our journalism on stands.
READ MORE
More Yorgos Lanthimos
New films by Yorgos Lanthimos, Asghar Farhadi added to fest
Richard Whittaker, Sept. 12, 2018
Barry Keoghan on good, evil, and Colin Farrell's beard
Richard Whittaker, Oct. 27, 2017
More Yorgos Lanthimos Films
The director of The Lobster returns with another salvo
Marjorie Baumgarten, Oct. 27, 2017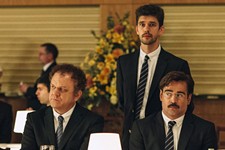 The Dogtooth director is back with another fractured parable
Josh Kupecki, May 20, 2016
More by Richard Whittaker
Fortune and glory awaits you at Barton Creek Square this weekend
June 1, 2023
ATX TV Festival respects writers as they work and protest
June 2, 2023
KEYWORDS FOR THIS FILM
The Favourite, Yorgos Lanthimos, Olivia Colman, Emma Stone, Rachel Weisz, Nicholas Hoult, Joe Alwyn, Mark Gatiss, James Smith
MORE IN THE ARCHIVES