The Killing of a Sacred Deer
2017, R, 121 min. Directed by Yorgos Lanthimos. Starring Colin Farrell, Nicole Kidman, Barry Keoghan, Raffey Cassidy, Sunny Suljic, Alicia Silverstone, Bill Camp.
The patriarchy gets another lashing from Yorgos Lanthimos in his latest film allegory The Killing of a Sacred Deer. The Greek filmmaker takes no prisoners in this story that is loosely connected to the Greek myth of Iphigenia, who was sacrificed to the gods by her father King Agamemnon. But you needn't be an antiquities scholar to understand or appreciate The Killing of a Sacred Deer. You will need a certain amount of patience, however, because the dimensions of the plot are entrenched within the story's slow reveal. And along the way, you'll wonder if you're watching a classic tragedy or a comedy.
Viewers who discovered Lanthimos through his recent international successes with the films Dogtooth and The Lobster (for which Lanthimos was nominated for a Best Original Screenplay Oscar, along with his regular writing partner Efthymis Filippou, who returns for Sacred Deer) may search fruitlessly for the strong absurdist streak that made those previous two films so enticing to them. Unlike Dogtooth and The Lobster, Sacred Deer is set in a more ordinary and recognizable here and now. In addition to the all-English dialogue, the film was also shot in the U.S. The story's central focus is on the upper bourgeois Murphy family: Mom and Dad are both doctors – Steven (Farrell) is a heart surgeon, Anna (Kidman) an ophthalmologist – and they have a perfect nuclear family of son Bob (Suljic) and daughter Kim (Cassidy). Although they behave with great emotional reserve, they also treat matter-of-factly details that others would consider intimate and private (i.e., sharing news of the arrival of Kim's first period). Farrell, who also starred in The Lobster, plays against type here, tamping down his usual animalistic charms for a more buttoned-down inscrutability. Kidman once again brings her expert bearing that finds the normalcy in outrageous situations (see Eyes Wide Shut, Dogville, Bewitched, and The Beguiled for examples).
Sacred Deer's reigning mystery is Steven's relationship with the teen Martin (Keoghan). Has Steven taken a healthy custodial interest in the fatherless child, or is there something more sinister going on in their private meetings? Why does Steven accept the invitation to an awkward dinner with Martin and his mother (Silverstone), who wants Steven to stick around to "taste her tarts"? And even more curious is why Steven later brings Martin into the Murphy family unit and encourages the friendship of all three kids. The power Martin possesses over Steven is where the movie breaks with reality and verges into the mythic. Later, once all the pieces fall into place, Sacred Deer becomes a taut family psycho-thriller along the lines of Michael Haneke's Funny Games. The film is not as bizarre as Lanthimos' previous films, which some may bemoan, but others, like me, may find this approach less conspicuous and more engaging.
A note to readers: Bold and uncensored, The Austin Chronicle has been Austin's independent news source for over 40 years, expressing the community's political and environmental concerns and supporting its active cultural scene. Now more than ever, we need your support to continue supplying Austin with independent, free press. If real news is important to you, please consider making a donation of $5, $10 or whatever you can afford, to help keep our journalism on stands.
READ MORE
More Yorgos Lanthimos
New films by Yorgos Lanthimos, Asghar Farhadi added to fest
Richard Whittaker, Sept. 12, 2018
Barry Keoghan on good, evil, and Colin Farrell's beard
Richard Whittaker, Oct. 27, 2017
More Yorgos Lanthimos Films
Period drama puts power and personality first
Richard Whittaker, Nov. 30, 2018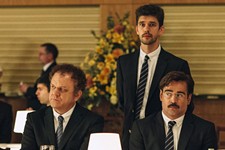 The Dogtooth director is back with another fractured parable
Josh Kupecki, May 20, 2016
More by Marjorie Baumgarten
Body doubles take on a new, sick meaning in this next gen Cronenberg horror
Jan. 27, 2023
The bulb glows dim in Sam Mendes' tribute to picture palaces
Dec. 9, 2022
KEYWORDS FOR THIS FILM
The Killing of a Sacred Deer, Yorgos Lanthimos, Colin Farrell, Nicole Kidman, Barry Keoghan, Raffey Cassidy, Sunny Suljic, Alicia Silverstone, Bill Camp
MORE IN THE ARCHIVES