Austin Animation Seis Manos Heading to Netflix
More details on the latest show from Powerhouse Animation
There's a big lesson to be learned today: if you have a great idea, hang in there. Anyone who has visited Austin's Powerhouse Animation over the last few years has probably seen concept art for an unproduced animated action show called Seis Manos. Now some news: it's now headed to Netflix.
The show melds Seventies-style kung fu action with the modern Western, as three ass-kicking orphans team up with a US DEA agent and a Mexican federale to avenge the death of their sensei.
It's a long-gestating project (we even saw some concept art back in 2016). Powerhouse cofounder and show co-creator Brad Graeber said, "We wrote the initial pitch back on that in 2014, and it's grown a lot since then."
In 2015, they brought on writer Alvaro Rodriguez (Machete, From Dusk Till Dawn: The Series) to help develop the project (he'll be co-writing with Oishi High School Battle creator Daniel Dominguez in Powerhouse's Burbank office, but all the animation will be done in Austin). In 2017, it was optioned by anime import powerhouse Viz Media (Bleach, Sailor Moon): now Netflix is the final part of the equation.
This is not the first time that Powerhouse has worked with the streaming giant. The firm built its early reputation on advertising, games, and clean-up on big studio projects like Eight Crazy Nights: prestige projects like The Banner Saga raised their profile, but it was last year's big Netflix series Castlevania that put them on the map. Graeber said that, when it came to getting their first original series on to screens, "The talent of the Powerhouse team that worked on Castelvania definitely opened the door."
It's an exciting time for Austin's animation studios. Last week, Rooster Teeth announced it has green lit Spikeface, the new horror-comedy produced by Rob McElhenney (It's Always Sunny in Philadelphia), while Minnow Mountain is working on Undone, a US/Netherlands comedy-drama from Bojack Horseman producers Noel Bright and Steven A. Cohen, and Austin's own Tommy Pallotta.
To follow developments on Seis Manos, visit www.6manos.com
A note to readers: Bold and uncensored, The Austin Chronicle has been Austin's independent news source for over 36 years, expressing the community's political and environmental concerns and supporting its active cultural scene. Now more than ever, we need your support to continue supplying Austin with independent, free press. If real news is important to you, please consider making a donation of $5, $10 or whatever you can afford, to help keep our journalism on stands.
READ MORE
More Powerhouse Animation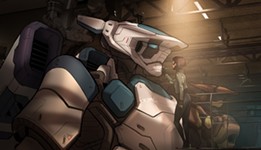 New Rooster Teeth show, Castlevania, and more
Richard Whittaker, July 17, 2017
More Netflix
Fresh footage of Netflix series from Austin's Powerhouse Animation
Richard Whittaker, July 28, 2018
Macon Blair's debut lauded by Austin Film Critics Association
Richard Whittaker, Dec. 31, 2017
More by Richard Whittaker
We know the winners, now who'll be running the show?
Feb. 14, 2019
After a decade and a half, the legendary manga's battle dreams are made real
Feb. 15, 2019
KEYWORDS FOR THIS POST
Powerhouse Animation, Netflix, Seis Manos, Brad Graeber
MORE IN THE ARCHIVES