Black Christmas
2006, R, 84 min. Directed by Glen Morgan. Starring Michelle Trachtenberg, Lacey Chabert, Andrea Martin, Mary Elizabeth Winstead, Jessica Harmon, Katie Cassidy, Oliver Hudson, Kristen Cloke, Robert Mann, Karin Konoval.
When it was announced that director Morgan and his producing partner James Wong were tackling a remake of Bob Clark's much-loved 1974 sorority-house slash-a-rama, the recoil from the old-schoolers was palpable. After all, weren't these the guys responsible for the bizarro reimagining of Willard, the increasingly freakish Final Destination body-part-du-jour franchise, and Jet Li's The One? Well, yeah, so what? Crispin "Hellion" Glover's take on the poor ratman nobody loved was a scream in all senses of the word in Willard. Those Final Destination outbursts continue to provide giddy good Grand Guignol, and, well, The One was obviously mistitled. Morgan has more than proven himself to be a genre helmer with a wonderfully warped cinematic sensibility, and while this new take on Black Christmas certainly won't wipe the original from anyone's mind, it's still a surprisingly memorable creepfest that fleshes out the characters' backstories while adding a heaping helping of blacker-than-pitch humor to the proceedings. Granted, this new version doesn't live up to the 1974 film's hyperbolic tagline, which remains one of the best of all time – "If this movie doesn't make your skin crawl … it's on too tight!" – but then what could? As in the original, the plot here involves a group of sorority sisters who spend the Christmas holiday in their sorority house along with their housemother (played, in a sweet nod to fans, by SCTV's Martin, who played one of the doomed Greek gals the first time round). That same dwelling, we are informed through copious interlocking flashbacks, was once the home of dreadful Billy, a damaged little kid who lost his marbles and more after spying his mother murdering dear old dad. Suffice it to say wee Billy gets his revenge on Mom and later ends up locked away just like Michael Myers but without the calming influence of Donald Pleasence's urbanely histrionic headshrinker. Flash-forward to the present, and adult Billy (Mann) is out and about and back stashing bodies in the attic as the local Greek population dwindles alarmingly. It may not sound like much (and it does sound an awful lot like John Carpenter's Halloween, which Clark's film clearly influenced, right down to a psycho-sibling subplot), but while Morgan's remake isn't nearly as suspenseful or emotionally draining as its predecessor, it almost – but not quite – makes up for this by sheer dint of its overriding weirdness. From some inspired casting – which includes former Party of Fiver Chabert and Millennium's Konoval as poor Billy's harridanlike mater diabolicus – to the splashy, carnival-of-horrors cinematography by Robert McLachlan and Shirley Walker's ominous, loud-quiet-loud scoring, this film is an evocative, effective entry into the holiday blood-spray subgenre in its own right. And if it doesn't make your skin crawl ... you probably ate too much Christmas dinner.
READ MORE
More Black Christmas
The giving season can be murder in the original slasher
Richard Whittaker, Dec. 2, 2017
More Glen Morgan Films
The casting of cult actor Crispin Hellion Glover as Willard Stiles, the gangly misfit who befriends an army of rats and employs them to wreak ...
Marc Savlov, March 14, 2003
More by Marc Savlov
Grumpy old men on the golf course
Dec. 15, 2017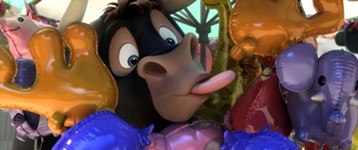 A beloved children's book gets a mediocre screen adaptation
Dec. 15, 2017
KEYWORDS FOR THIS FILM
Black Christmas, Glen Morgan, Michelle Trachtenberg, Lacey Chabert, Andrea Martin, Mary Elizabeth Winstead, Jessica Harmon, Katie Cassidy, Oliver Hudson, Kristen Cloke, Robert Mann, Karin Konoval
MORE IN THE ARCHIVES