Austin Film Festival Review: The Dark Red
Psychic powers and powerful delusions in this bloody thriller
Just because everyone tells you that you're crazy, that doesn't mean they're right. Especially when you can see into their brain and know they're lying.
That Sybil (April Billingsley) had a long history of trauma before she lost her baby makes it very unlikely that her shrink will believe her when she says that she didn't miscarry, but that a deranged blood cult ripped her baby out of her because of her family's psychic and psionic powers. But her utter conviction, in spite of mounting evidence, is that her baby is still out there, and she is the only one who will do anything about it.
Director/co-writer Dan Bush has more than proven his ability to twist and turn through mental breakdown and reconstruction with underground favorites like The Signal and The Reconstruction of William Zero. Yet The Dark Red pushes that into surprisingly grisly territory, even in the opening, arid act in which Sybil recounts to Dr. DeLuce (Kelsey Scott), sometimes through chopped-up flashbacks, exactly what she believes happened.
Those sequences have a dash of the strapped-down powerlessness of alien abduction classic Fire in the Sky, but then Bush quite happily torches the rulebook, and sends Sybil on a fantastical and bloody revenge plot – think Mandy without Panos Cosmatos' lysergic visual lyricism. It would, of course, be harsh to expect anyone to match that neon- and gore-drenched masterpiece, but Bush undoubtedly takes the gloves off in this lo-fi scorcher. The Dark Red isn't afraid to get a little bloody, and it's all the more entertaining for it.
---
The Dark Red
Mon. Oct. 29, 9pm, Alamo Drafthouse Village
Austin Film Festival runs Oct. 25-Nov. 1. Tickets and info at austinfilmfestival.com.
Find more of our AFF coverage, including news, reviews, and interviews, at austinchronicle.com/AFF.
A note to readers: Bold and uncensored, The Austin Chronicle has been Austin's independent news source for over 40 years, expressing the community's political and environmental concerns and supporting its active cultural scene. Now more than ever, we need your support to continue supplying Austin with independent, free press. If real news is important to you, please consider making a donation of $5, $10 or whatever you can afford, to help keep our journalism on stands.
READ MORE
More by Richard Whittaker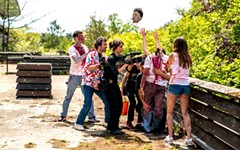 French remake of beloved Japanese movie-making comedy adds a little
Sept. 30, 2022
Wall-to-wall Godzilla in the new show, opening tonight
Sept. 30, 2022
KEYWORDS FOR THIS POST
Austin Film Festival 2018, AFF, Austin Film Festival, The Dark Red, Dan Bush
MORE IN THE ARCHIVES