John and the Hole
2021, R, 104 min. Directed by Pascual Sisto. Starring Charlie Shotwell, Michael C. Hall, Taissa Farmiga, Jennifer Ehle, Tamara Hickey.
There's a look. It's the moment in John and the Hole at which Laurie (Farmiga) realizes that her brother is a callous monster. She's the first to make the connection, even as her parents (Ehle and Hall) try to cajole and reprimand him into getting them out of the abandoned bunker in which he has trapped them. It's the kind of meaningful expression that you'll never see in the face of 13-year-old John (Shotwell), who lives in a state of fascinated disconnect from the everyday lives of regular people. Like the drone that he's gifted by his dad, he's constantly above the entire affair, unaware of the emotional lives of anyone who isn't him.
There are fascinating portraits of serial killers as young boys, whether fictionalized (as in the constantly overlooked The Boy) or real-life (Ross Lynch's disturbing portrayal in My Friend Dahmer), and John and the Hole has all the makings of the same kind of tale of merciless detachment. John's decision to lower his entire family into a slick-sided pit seems like a whim, and when John and the Hole concentrates on Shotwell's unnervingly placid attitude. He wordlessly captures John's fixation with trying to appear normal and not getting caught, inviting his only friend over to play computer tennis, or coming up with improbable cover stories every time an adult comes over.
If only this narrative, and the underlying theme of how a family can ignore all the signs of malice fermenting in their own, was what John and the Hole concentrated on throughout. Instead, Sisto cuts to the less-convincing plight of the family members stuck in the titular hole, and the sporadic inserts of a mother telling her daughter the story of John and the hole like it's a fairytale. The family story (much as Ehle, Farmiga, and Hall try to give it life) feels too stylized to mesh with the bleak naturalism of Shotwell's story. As for exactly what the third plot has to do with anything, that's a complete mystery, a dead end that adds nothing as the narrative peters out. Sisto's direction is a victory of glacial tone over actual content, and John and the Hole's frustrations outweigh its insight into the forces that can spawn a monster.
A note to readers: Bold and uncensored, The Austin Chronicle has been Austin's independent news source for over 40 years, expressing the community's political and environmental concerns and supporting its active cultural scene. Now more than ever, we need your support to continue supplying Austin with independent, free press. If real news is important to you, please consider making a donation of $5, $10 or whatever you can afford, to help keep our journalism on stands.
READ MORE
More Charlie Shotwell Films
Pretense and aspiration collapse in this dour relationship drama
Richard Whittaker, Sept. 18, 2020
A soldier struggles with PTSD
Marjorie Baumgarten, Dec. 2, 2016
More by Richard Whittaker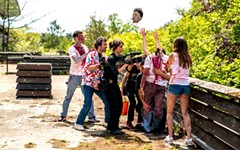 French remake of beloved Japanese movie-making comedy adds a little
Sept. 30, 2022
Wall-to-wall Godzilla in the new show, opening tonight
Sept. 30, 2022
KEYWORDS FOR THIS FILM
John and the Hole, Pascual Sisto, Charlie Shotwell, Michael C. Hall, Taissa Farmiga, Jennifer Ehle, Tamara Hickey
MORE IN THE ARCHIVES