Sexy Beast
2001, R, 91 min. Directed by Jonathan Glazer. Starring Robert Atiko, James Fox, Alvaro Monje, Julianne White, Cavan Kendall, Amanda Redman, Ian Mcshane, Ben Kingsley, Ray Winstone.
A boulder, a gun, a bank heist … it's hard, at first, to tell where Sexy Beast is going. The boulder goes in the pool, with a tremendous splash, there are several guns, and the bank heist is just icing on the cake. I'm tempted to call this the most shocking, remarkable film since Reservoir Dogs, but that's a bit much. It's tough, scary, and shocking, yes, but it lacks the brick-wall smashup of the Tarantino film. As near as I can see it's closer to some of Guy Ritchie's work -- a more adult version of Lock, Stock, and Two Smoking Barrels. One thing's for sure: You'll never think of Ben Kingsley as Gandhi again, or at least not in those non-combative terms. A peacemaker he's not. Kingsley plays Don Logan, the sexy beast of the title I suppose, and although he is most definitely a beast, he's only sexy to Jackie (White). Jackie and her husband Aitch have forsaken the gloomy British drizzle for the sunny overkill of Spain, like Gal (Winstone) and his wife DeeDee (Redman). Logan, a bald-headed boogeyman prone to violent outbursts, once slept with Jackie, who clearly regrets the romantic error. Gal is a former bank robber, living the high life on the Spanish coast with DeeDee. His dark past, what there is of it, is murky at best. We know he was a thief in Britain, but that's it. His face, like his body, is puffy and sun-burned. When we first meet him he's lying poolside, baking in the sun. It's clear he loves this post-foul-up fun. He's grilling and loving every minute of it. Into this perfect world comes first the aforementioned boulder, quickly followed by the unwelcome news that Ray's old pal Don Logan is due to arrive at any moment. Don is one of Ray's old thievery pals from back in the day, and neither Ray nor ex-porn-star DeeDee is happy to hear of his impending arrival. It's like a suckerpunch to everyone's stomach, not least of which is Ray's friend Teddy (McShane), who looks to have just arrived from some hellish oven. Much is made about Don's arrival. It's only when he finally shows up that we begin to understand why everybody is so nervous. As Kingsley plays him, Logan is a Cockney madman, all ticks and rhyming slang. He's Oasis' Gallagher brothers gone postal. He spits, he shrieks, and he has a gun. He's desperate to ensnare the flaccid Ray in a scheme that's happening a thousand miles away in London, but Ray, and DeeDee, aren't having it. The less said about Sexy Beast's plot lines the better -- the story is nothing new, really, but director Glazer tackles it with gritty aplomb, filling the screen with rapid-fire editing and crazed backstory. It's fun in a scary way. You know things are going to end badly, dirty, and full of blood, but with Kingsley's remarkable Logan (he makes you think of Terence Stamp in The Limey) and Winstone's corpulent Ray, it's all fun and games for a while. Is Sexy Beast the second coming of British cinema? Not hardly. The plot was old news long, long ago, and though Glazer has a keen eye and smart-aleck's take on things, it's not enough to render the obvious less so. Still, Sexy Beast is a small triumph of gutsy, Britpop filmmaking. Like an unwelcome guest from way back when, it smarts, and shocks, and just for a moment blows your mind.
A note to readers: Bold and uncensored, The Austin Chronicle has been Austin's independent news source for almost 40 years, expressing the community's political and environmental concerns and supporting its active cultural scene. Now more than ever, we need your support to continue supplying Austin with independent, free press. If real news is important to you, please consider making a donation of $5, $10 or whatever you can afford, to help keep our journalism on stands.
READ MORE
More Jonathan Glazer Films
Scarlett Johansson is the blank alien who prowls for earthmen in this spare and disorienting genre smash-up.
Marc Savlov, April 18, 2014
If your dead husband returned to you in the body of a 10-year-old boy, would you seize the opportunity for your romance to be born again or would you call Child Welfare?
Marjorie Baumgarten, Oct. 29, 2004
More by Marc Savlov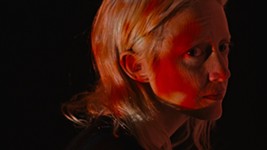 Identity melts in this psychotropic assassination brainblender
Oct. 2, 2020
Mangled Italian creature feature should be even shorter
Sept. 25, 2020
KEYWORDS FOR THIS FILM
Sexy Beast, Jonathan Glazer, Robert Atiko, James Fox, Alvaro Monje, Julianne White, Cavan Kendall, Amanda Redman, Ian Mcshane, Ben Kingsley, Ray Winstone
MORE IN THE ARCHIVES