In Between Days
1999-2000 Austin Music Awards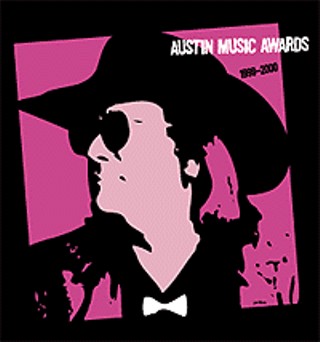 "When we look back at it all ... will we really remember how it feels to be this alive?"
-- The Cure, "Out of This World," 2000
When we look back at it all, we're gonna be pretty embarrassed by all this millennium business. It's cool the way all those zeros fit in with our new hyper-evolving digital mode of expression and all, but mostly it seems like what Monty Python called "silliness." Just ask the Muslims or Chinese -- 2000 ain't nothin' but a number. From a cursory glance at the genres mined by this year's Austin Music Awards performers, you'd scarcely realize the calendar changed: folk, country, jazz, blues-funk, guitar rock. Pretty 1900s. Look even closer, and you'll find a number of performers on the shy side of 30 or not terribly far over, and veterans who are undisputed masters of their chosen fields, as relevant today as in their younger days. Add tributes to two guys who didn't quite make it to the new century with us, Doug Sahm and Sterling Morrison, and it only underscores how musical legacies reverberate across time.
In America, let alone Texas, few musical legacies are older than jazz, making Austin's Texas Trumpets perfect elder statesmen for this year's awards show. Combined, Martin Banks, Donald "Duck" Jennings, and Pat Patterson have well over a century's worth of horn time under their dapper hats, much of it spent in the close musical company of all-time greats including Duke Ellington, Count Basie, Dizzy Gillespie, Ray Charles, James Brown, Hank Ballard, Otis Redding, and Etta James. Here in town, that list includes longtime local stalwarts Matthew Robinson, Blues Boy Hubbard & the Jets, and W.C. Clark.
Combine the Trumpets with young lion Ephraim Owens, just as likely to shake Antone's or the Mercury with his own combo as sit in with one of his teachers at the Elephant Room, and the stage is set for a swingin' session of trumpet theatrics. Greased by the well-oiled Eastside Band on last year's self-titled Dialtone CD, this house party on fire put their lips to a pool that dips into bop, blues, and soul -- a smooth, satisfying drink of water in a sometimes jazz-dehydrated environment.
If Austin occasionally appears to give the cold shoulder to jazz, the same cannot be said of singer-songwriters. More than anything else, the image of a storyteller strumming his or her acoustic guitar still says "Austin" around the world. This year, two acclaimed Central Texas troubadours meet across the generational divide to demonstrate said image has lost none of its validity -- though, if you want to get technical, neither performer actually lives within the city limits.
Geography didn't stop San Marcos' Terri Hendrix from being voted "Best New Band" all by her lonesome in last year's Music Poll. A loyal pupil of ace producer/Dixie Chick sire Lloyd Maines, Hendrix's 1998 debut Wilory Farm was fresh and down-to-earth, and her forthcoming sophomore effort promises to deepen an already sizable list of accolades.
Wimberley's Ray Wylie Hubbard, meanwhile, penned the Seventies anthem "Up Against the Wall, Redneck Mother" -- recently resurrected by local outfit the Gourds as well as Fox's That '70s Show -- before coming back strong in the Nineties with plain-spoken, heartstring-tugging albums like Loco Gringo's Lament and Lost Train of Thought. A staple at both the Cactus Cafe and Willie Nelson's Fourth of July Picnics, Hubbard may be old-school, but he can still teach the kids a thing or two.
Needing no lessons, and returning for her second Music Awards in a row, is Continental Club queen Kelly Willis. Even when the circumstances have been less than ideal, Willis has managed to reach down and deliver some of the most stirring modern country music on record -- two examples being the divine cover of the Kendalls' "Heaven's Just a Sin Away" from her 1992 self-titled MCA album, and the entirety of 1996's promotionally botched Fading Fast EP on A&M. Even then, Willis outdid herself last year, releasing What I Deserve, the album of her, and plenty of her neighbors', dreams.
Stocked start to finish with unfettered, aching meditations on love and desire, What I Deserve was embraced with open arms by Willis' considerable lot of appreciative local fans, who immediately took instant classics like "Take Me Down," "Not Forgotten You," and "Wrapped" to heart. SPIN magazine named the album on its "10 Best Albums You Never Heard in 1999" list in January, but in these parts, it was hard to find anyone who wasn't humming "Cradle of Love" or "Heaven Bound" under their breath.
If anyone had a better 1999 than Willis, it was Bob Schneider, and not just because of his girlfriend. Though he recently made history as the first unsigned act to appear on The Tonight Show With Jay Leno, Schneider's spastic charisma as frontman for Joe Rockhead, the Ugly Americans, and the Scabs has been packing Austin clubs for at least a decade. For the better part of three years, the Scabs filled Antone's to the rafters every Tuesday night with dance-hungry young coeds decked out in their finest Abercrombie & Fitch and Tommy gear, before drawing to a Cats-like close this past January.
Schneider was also in rare form reuniting with his old Joe Rockhead mates for a sweat-drenched, vegetable-throwing fond farewell to Sixth Street rock institution Steamboat last September that won't soon be forgotten. Currently pursuing his solo muse under the Lonelyland moniker, the man who gave Austin "Pussy Fever" for so long is discovering his appeal extends well beyond the realm of the Greeks. Featured on the Gun Shy soundtrack and lying in wait with his newly minted solo album Lonelyland, it's a safe bet Leno, who introduced Bob as "Rob," won't mistake Schneider for Deuce Bigalow again.
Philosophically, the fecundity of fresh-faced talent like Owens, Hendrix, Willis, and Schneider helped buffer the pangs of loss felt throughout 1999. It was hard enough saying adios to buildings like Liberty Lunch, Steamboat, Bates Motel, and the Electric Lounge, but the November passing of "Sir" Douglas Sahm was just the biggest bummer imaginable. It's hard to overstate how much Sahm meant to Texas music. If it was some kind of Texas music, whether honky-tonk ("Wanna Be Your Mama Again"), Gulf Coast blues ("I'm Glad for Your Sake"), far-out Sixties psychedelia ("Catch the Man on the Rise"), conjunto ("Nuevo Laredo"), or hard-driving Tex-Mex, rock & roll with a little bit of everything ("Who Were You Thinkin' Of"), it was safe in Sir Doug's able hands.
Even dead, Sahm was responsible for what was, for my money, the most transcendent moment of the last millennium. A few days after his funeral, Sahm's son Shawn, lifelong buddy Augie Meyers, and San Antonio homeboys the West Side Horns turned out a spine-chilling "She's About a Mover" that ripped the roof off Antone's to reveal the stars smiling down overhead. Only this time from behind a pair of groovy hippie shades.
Sterling Morrison never had quite as high a local profile as Sahm, but the Velvet Underground tugboat captain nevertheless spent the last part of his life here in Austin before passing away in 1994. Both a professor in UT's English department and a member of Raul's-era punk band the Bizarros, Morrison's contribution to the groundbreaking Velvets led to the simultaneous infusion of high art and jet-lagged cynicism into rock & roll, patterns that continue into the present day. VU standards "Rock and Roll" and "Sweet Jane" remain perennial favorites at the Hole in the Wall's Rock & Roll Free for All, and the lengthy roll call of musicians influenced by the Velvets starts with David Bowie, Patti Smith, Iggy Pop, U2, and R.E.M.
Alejandro Escovedo is squarely in that number, both with the grizzled garage grind of his Buick MacKane sidecar and last year's well-received solo effort on Bloodshot, Bourbonitis Blues, as well as with the loftier-minded chamber pop of his Orchestra. One suspects the local dean of songwriters will strike a happy medium between the two camps Wednesday, honoring Morrison with the help of local gypsies Tosca, and none other than founding VU mastermind John Cale.
Whether it has anything to do with the recent calendar rollover or not, this year's Austin Music Awards finds the capital city squarely, as Doug Sahm put it, "At the Crossroads." Especially after the turmoil of 1999, there's an air of uncertainty pervading the music community. If the scene is increasingly dominated by up-and-comers, there's still plenty of old top hands in the bunkhouse not about to turn in. Similarly, if every year we lose a few more legends who can never be replaced, into their footprints slide new feet unafraid to fill their shoes. It's appropriate that the 1999-2000 Austin Music Awards so accurately represent our transitional times, because for Austin, these are truly the in-between days.
But some things never change. Therefore, the 1999-2000 Austin Music Awards go on as usual, Wednesday, March 15, at the Austin Music Hall. MC-for-life Paul Ray plays ringmaster, with comic relief from Uranium Savage Kerry Awn. The awards will be broadcast live on Austin Community Access Channel 16. 7:55pm sharp. Shades encouraged.