Chronicles
The Ninth Annual Austin Chronicle Short Story Contest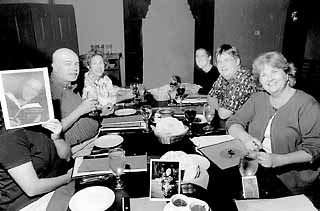 It's been a good year for the short story for at least several years now. "They don't sell well," you used to hear. "Short stories have become academic and trite," people would say. What everyone says about memoirs -- that apparently anyone who has a pen and paper, or computer, is writing one -- seems more applicable to the short story.
And that's where we come in. This is the ninth year that we've asked readers to send in their accomplished, poignant, evocative short stories, or even their inkling of a short story that may or may not have a plot and characters identifiable as such, or ... just whatever they dub a short story, as long as it's 2,500 words or less and previously unpublished. Every short story that arrives at the Chronicle is read twice, by two independent initial judges who each give a story a score of one to five. Then Chronicle marketing director Tommi Ferguson and I look at the scores, read over every story between ourselves to make certain we haven't missed any budding Amy Blooms or George Michael Chabons, and then send on the best stories -- 10, this year -- to the final judges. Fiction lovers Julie Carpenter, Shawn Badgley, Scott Blackwood, Michael Chamy, Denise Hutto, Eli Kooris, Kim Mellen, Deborah Wilson, and Kevin Wood were our dedicated first readers. Thanks to our co-sponsors -- 107.1 KGSR, BookPeople, and the Austin Writers' League -- without whom the short story contest wouldn't be possible, and to the final judges, who spent an evening together thoughtfully debating the merits of stories about dead deer, Catholic school, and drummers. The winning authors will read their stories this Sunday, October 1, at BookPeople at 3pm.
Winners
Susan Shields
"Demolition"
"Demolition" is Susan's second story to be published since finishing her masters in English at the University of Texas last year. She was a reporter for
Variety
in New York City before moving to Texas, where now she is an adjunct professor in the Humanities Department at St. Edward's University. But, most nights she can be found on South Congress working at Vespaio. Her story "Squeeze" can be read at
www.hootenanny.com
.
Alana Cash
"Sometimes You Get What You Want"
Alana Cash is currently producing/writing her second documentary film and is quite sure that being a meter maid is more lucrative. She was once in love with a drummer.
Bonnie West
"Point and Shoot"
Bonnie West, wife and mother, lives and teaches goof-off yoga in St. Paul, Minnesota. She has just seen Texas for the first time this month. Bonnie has published essays in Ladies' Home Journal, Redbook, Mpls St. Paul Magazine, and most recently, Woman's Day, though she thinks of herself as a famous short-story writer and thanks the Chronicle for publishing this, her first published fiction. She is quitting her day job because of this award.
Steven Salzman
"Sterling's Creed"
Steven Salzman is an actor, writer, and volunteer. A graduate of UT's Department of Theatre and Dance, he has had an essay published in Frontiers magazine, and his script, "Simon Says," advanced to the second round in the 1999 Austin Heart of Film Screenplay Competition. A recovering waiter, Steven enjoys therapy, bourbon, and gardening.
Susan Schorn
"Bobby Lee Carter and the Hand of God"
Susan "George" Schorn is a doctoral candidate and instructor at the University of Texas at Austin in the Department of English. She has produced scholarly criticism on, among other topics, Charlotte Bronte, Jane Austen, and Nancy Drew, some of which has actually been published in journals which no one ever reads, and she can't blame them. She is also a former science writer and a student of martial arts.
Judges
Sarah Bird
Sarah Bird is a novelist and screenwriter. She has published four novels. Knopf will publish her new novel in June. They won't let her call it
Go Go Kimono
, so she's going with the title Bud Shrake suggested,
Tuesdays With Harry Potter
. She's rushing to get it to press before Tom Doyal's Harry Potter title.
Jim Burr
Jim Burr is Humanities Editor for the University of Texas Press, where he acquires and manages manuscripts in the fields of Classics and the Ancient World, Film and Media Studies, Middle Eastern Studies, and Texas Architecture. He'd like to thank the Academy for making this happen.
Carol Dawson
Carol Dawson has published four novels and just completed a fifth, Walking Toward Water. She is currently Fiction Professor of Creative Writing at The College of Santa Fe.
Anne Dingus
Anne Dingus is what her father calls "a career Texan." She is a native of Pampa and a graduate of Rice University. Since 1978, she has worked for Texas Monthly, where she is currently a senior editor, writing most often about pop culture, entertainment, and Texas history. She is also the author of four books of Texana.
Tom Doyal
I confess that I have been less than candid with the readership in past biographical statements and, after much prayerful and deep reflection, I conclude that this year is no time to mess with success. I am Head of Covert Operations for Spartan Condoms ("Spartan: The Condom With Grit"). I am also a writer of short stories, an activity completely unsullied by economic blandishments from the publishing industry. In an effort to become a more commercial writer, I am now working on a novel tentatively titled Harry Potter Experiences Puberty at Vacation Bible School. My short story "A Frog's Bath-water" will be read at the Dallas Museum of Art's "Arts and Letters Live" program in the spring of 2001.
Tom Grimes
Tom Grimes' play New World opens in Los Angeles on June 22. He directs the creative writing program at Southwest Texas State University.
Amanda Eyre Ward
Amanda Eyre Ward's story "Miss Montana's Wedding Day" won third prize in The Austin Chronicle Short Story Contest last year. She is working on a novel about women on death row.
Mary Willis Walker
Mary Willis Walker, a local writer of crime fiction (The Red Scream, etc.), was recently detained, along with her golden retriever, Daphne, by the Park Police for violating the leash law on the Hike and Bike Trail. She is pondering the experience as an inciting (and exciting!) incident in a new crime novel. Anyone got some title ideas?