Flora and Son
2023, R, 97 min. Directed by John Carney. Starring Eve Hewson, Joseph Gordon-Levitt, Orén Kinlan, Jack Reynor, Sophie Vavasseur, Don Wycherley, Amy Huberman.
The streets of Dublin are alive again with the sound of music in Flora and Son. Or at least they're humming a DIY tune or two with a backbeat courtesy of GarageBand. Written and directed by John Carney, the filmmaker behind the similarly located naturalistic musicals Once and Sing Street, this more formulaic effort centers on the fraught relationship between wild-child single mum Flora (Hewson) and her troubled teenage son Max (newcomer Kinlan, a youngster with keen comic timing). She loves her glasses of white wine and isn't above filching a 10-euro note when the opportunity presents itself; he sulks a lot while glued to his laptop, just an infraction away from a stint in juvenile hall. The two angrily spit abusive epithets at one other in everyday conversation, behaving like rancorous siblings rather than parent and child. "I can't go on like this, living in a shoebox with a kid who hates me," an anguished Flora tells her best friend (Vavasseur). It's the pained admission of a struggling young mother acknowledging her own complicity in a domestic situation seemingly without hope.
A slightly worn acoustic guitar retrieved from a dumpster is the movie's deus ex machina, albeit one that's more predictable than not in Carney's modest script. Flora hopes the instrument will give Max a sense of purpose — unbeknownst to her, he's already making his own hip-hop jams using a computer app — but eventually she decides to learn to play it herself to impress him and anyone else within her loopy orbit, including the handsomely blue-eyed but irresponsible ex who fathered their 14-year-old (Reynor). Enter Jeff the Guitar Guy (Gordon-Levitt), a longish-haired Angeleno in Topanga Canyon who gives online tutorials to would-be strummers. Though an ocean and a continent physically separate them — not to mention liquid-crystal displays — a flirtatious attraction soon sparks between student and teacher. The loveliest moments in the film come when Jeff magically migrates from the laptop screen to the same physical space as Flora thousands of miles away in defiance of the laws of physics as they begin to emotionally connect over music. The most sublime of these astral encounters occurs when the two duet a song they've co-written across the pond called "Meet in the Middle," which they perform atop a romantically twinkling rooftop on a quiet Dublin night. It's lovely.
While Hewson's splashier performance energizes the film, it's Gordon-Levitt who gives Flora and Son its sweetness and light. When the actor appeared over two decades ago as the most inhibited member of the kooky extraterrestrial family in the sitcom 3rd Rock From the Sun, he struggled to distinguish himself. Of course, anyone would pale amidst the frantic antics of John Lithgow, French Stewart, and Kristen Johnson. But since then, Gordon-Levitt has proven a reliable presence in films like Mysterious Skin, Brick, (500) Days of Summer, 50/50, The Dark Knight Rises and many more. Here, his deceptively low-key performance as a recovering alcoholic who spent 15 years spinning his wheels trying to break into the music industry is measured by humility and tenderness. There may a remnant of sadness behind Jeff's eyes, but his gentle (and no doubt, hard-earned) serenity grounds the movie as effectively as Flora's whirlwind gives it chaos. And let's just say that Gordon-Levitt has never been sexier onscreen. Oh yeah, the man is lookin' good.
A note to readers: Bold and uncensored, The Austin Chronicle has been Austin's independent news source for over 40 years, expressing the community's political and environmental concerns and supporting its active cultural scene. Now more than ever, we need your support to continue supplying Austin with independent, free press. If real news is important to you, please consider making a donation of $5, $10 or whatever you can afford, to help keep our journalism on stands.
READ MORE
More John Carney Films
The director of Once and Begin Again helms another joyful music film
Marjorie Baumgarten, April 29, 2016
Agreeably phony movie focuses on a pair of unlikely partners drawn together by the promise of making music.
William Goss, July 4, 2014
More by Steve Davis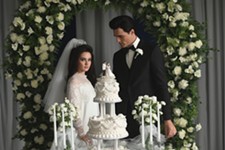 Measured journey behind closed doors of rock & roll's most famous marriage
Nov. 3, 2023
Ryan and Duchovny ponder the road not taken in magical rom-com
Nov. 3, 2023
KEYWORDS FOR THIS FILM
Flora and Son, John Carney, Eve Hewson, Joseph Gordon-Levitt, Orén Kinlan, Jack Reynor, Sophie Vavasseur, Don Wycherley, Amy Huberman
MORE IN THE ARCHIVES