Sword Art Online the Movie: Progressive – Scherzo of Deep Night
2023, NR, 101 min. Directed by Ayako Kōno. Voices by Haruka Tomatsu, Yoshitsugu Matsuoka, Shiori Izawa, Inori Minase, Kaede Hondo.
Remember Leeroy Jenkins? The legendary meme spawned when a World of Warcraft player wrecks a carefully planned raid by just storming off and accidentally causing a bloodbath of his own team?
My mind drifted to Leeroy deep into one of the interminable strategy debates in Sword Art Online Progressive: Scherzo of Deep Night, the sequel to 2021's Sword Art Online: Progressive – Aria of a Starless Night and the latest installment in the massively successful anime franchise about schoolkids trapped in a virtual fantasy MMORPG (massive multiplayer online role playing game).
It's the second in the SAO – Progressive sub-strand, re-telling stories from the core continuity, much like the massively successful Rebuild of Evangelion series. Yet for anyone who watched the original anime, Starless Night felt like a diversion of sorts, concentrating on heroic determined noob Asuna (voiced by Haruka Tomatsu in the original Japanese language version and Cherami Leigh in the English dub) and seasoned gamer Mito (Inori Minase/Anairis Quiñones), who was a much smaller character in the original series. Scherzo lands back on the heart of the show, the fractious relationship between Asuna and the roguish Kirito (Yoshitsugu Matsuoka/Bryce Papenbrook), with Mito still off being a mysterious loner.
It also lands in one of the most tedious elements of all MMORPGs: dungeon grinding. The first film was about clearing level one, now at least the action has jumped to level five (only 95 to go ...). And therein lies a trap for SAO: The characters, who must defeat the entire massive game or die in the real world, barely mention the truly life-or-death menace. Instead, there are endless discussions about guilds and strategies and buffs – a change, although not an improvement from the first film, which had less of a script and more of a player's handbook. Humorless and clunky, for much of Scherzo you'll be desperately hoping for a full-on Leeroy Jenkins moment, just to alleviate the tedium (or at least someone to teach the cast how to say "rapier").
And then, you get it. About halfway into Scherzo, when Asuna finally tracks down Mito on the way to an epic, Tron-influenced boss battle, and the burgeoning tenderness between Asuna and Kirito starts to find its footing in a touching, intimate scene that could readily have ended the movie, all that exposition and strategizing falls away. Or rather, it feels like director Ayako Kōno has done enough world building that he can relax a little, and start building up the threat that will define future films. The Sword Art Online – Progressive films were intended to give fans something new, something a little more meaningful, and while Scherzo doesn't completely deliver, it's at least intriguing enough to make you think, "Well, maybe one more level."
A note to readers: Bold and uncensored, The Austin Chronicle has been Austin's independent news source for over 40 years, expressing the community's political and environmental concerns and supporting its active cultural scene. Now more than ever, we need your support to continue supplying Austin with independent, free press. If real news is important to you, please consider making a donation of $5, $10 or whatever you can afford, to help keep our journalism on stands.
READ MORE
More Films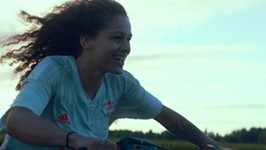 Tale of a French bike gang gets revved up by a vibrant performance
Alejandra Martinez, March 24, 2023
Unsubtle tale of addiction and redemption raised up by great performances
Kimberley Jones, March 24, 2023
More by Richard Whittaker
How Philippa Langley dug up the truth about Richard III
March 24, 2023
Snacks and sports win big this year with the crowds
March 23, 2023
KEYWORDS FOR THIS FILM
Sword Art Online the Movie: Progressive – Scherzo of Deep Night, Ayako Kōno
MORE IN THE ARCHIVES