Turn Every Page – The Adventures of Robert Caro and Robert Gottlieb
2023, PG, 112 min. Directed by Lizzie Gottlieb.
Does the clackety-clack of a Smith Corona Electra 210 ping your ASMR pleasure center? It's the very first sound you'll hear in Turn Every Page – The Adventures of Robert Caro and Robert Gottlieb, Lizzie Gottlieb's documentary portrait of two titanic men of letters. It smartly sets the tone for the film to come – as plucky and throwback and not a little romantic about a bygone era in publishing.
Firstly, the introductions: Robert Gottlieb (father to filmmaker Lizzie) was the preeminent editor of his era, with the bulk of his professional career spent at Knopf tending to an eye-popping roster of writers that has included (big breath) Toni Morrison, John Cheever, John Updike, John Le Carré, Sidney Poitier, Bill Clinton (appearing fleetingly in an on-camera, apparently out-of-focus interview), Joseph Heller, Nora Ephron, Charles Portis, Katharine Hepburn, and Robert Caro. That last name will be familiar – especially in these parts – as the two-time Pulitzer Prize winner and author of an endeavor of epic proportions, Caro's still-in-progress biography of Lyndon Baines Johnson. He is currently at work on the fifth volume; whether Caro, 87, completes the job, says Gottlieb, 91, is an "actuarial issue."
That's a charming way of acknowledging both men's advancing age, and charmed I was by the film in total, from those first typewriter keys banging away to Chet Baker hitting the thematic nail on the head with send-off song "Do It the Hard Way." (In between is a lively original score by Oliver and Clare Manchon.) The documentary makes it clear that Caro and Gottlieb's path has not always been an easy one, with the camera devoting minutes to minutiae that made my nerdy heart zing – their competing opinions on the function of a semicolon, a soliloquy on le mot juste, hushed research deep in the bowels of the LBJ Presidential Library here in Austin – and never sanding down either Bob's pricklier edges.
That we see their prickles at all is testament to the unique arrangement behind camera; this is, after all, a daughter profiling her dad and his co-worker. That intimacy informs the energy of the film, and opens up avenues hardly available to most documentarians. This material is so rich probably any halfway decent filmmaker could assemble a competent doc tallying the two men's extraordinary accomplishments. But only Lizzie Gottlieb could make a film where she does that plus needles her pop about wearing sweatpants for his sit-down interview. That coziness, the casual curtain-pullbacks: That's the making of the film.
A note to readers: Bold and uncensored, The Austin Chronicle has been Austin's independent news source for over 40 years, expressing the community's political and environmental concerns and supporting its active cultural scene. Now more than ever, we need your support to continue supplying Austin with independent, free press. If real news is important to you, please consider making a donation of $5, $10 or whatever you can afford, to help keep our journalism on stands.
READ MORE
More Films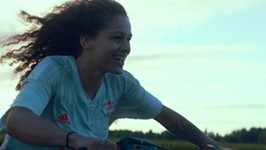 Tale of a French bike gang gets revved up by a vibrant performance
Alejandra Martinez, March 24, 2023
Unsubtle tale of addiction and redemption raised up by great performances
Kimberley Jones, March 24, 2023
More by Kimberley Jones
An intimate depiction of the weight of dementia on careers
March 24, 2023
This week's cover story is all about Austin street art and murals
March 24, 2023
KEYWORDS FOR THIS FILM
Turn Every Page – The Adventures of Robert Caro and Robert Gottlieb, Lizzie Gottlieb
MORE IN THE ARCHIVES