Plane
2023, R, 107 min. Directed by Jean-François Richet. Starring Gerard Butler, Daniella Pineda, Tony Goldwyn, Mike Colter, Yoson An, Evan Dane Taylor, Paul Ben-Victor, Remi Adeleke, Joey Slotnick.
Journeyman action star Gerard Butler grimaces and groans through much of the surprisingly aloft Plane, a briskly paced thriller that agreeably exceeds low expectations. In the film's more physically demanding scenes, including a brutally prolonged mano a mano struggle that's the most realistic onscreen fistfight in years, his complexion reddens and composure falters in a way befitting a middle-aged man who appears to be wondering whether he's too old for this kind of shit anymore. Whether that's the 53-year-old actor in character (or not) begs the question, really: It works here, perhaps serendipitously so.
As commercial pilot Brodie Torrance, a widower with a college-age daughter and a history of punching unruly passengers, Butler again steps up as the hero tasked to save the day (if not the world) in yet another genre flick, albeit one that's less grandiose than previous ventures that have fairly or unfairly blemished the faintly burring Scotsman's reputation as just another paycheck performer. (Call this one Airplane Has Fallen.) First, Torrance and his less experienced co-pilot (An) must miraculously land an aircraft crippled by a nighttime lightning strike, without the aid of any radar or electrical lights, on a remote island in the South China Sea somewhere west of the Philippines, every law of aerodynamics be damned. And if that's not heroic enough, he must then rescue the surviving passengers and crew taken hostage by lawless separatist militiamen for ransom, relying on the help of a former French Foreign Legionnaire (Colter) being extradited on murder charges (the man swings a mean sledgehammer) and a heavily armed American search and rescue team (bazookas!) sent by the airline to retrieve the survivors. It's the usual mayhem, just enough to get the blood pumping.
A bit of a masochist with a streak of messiah complex ("My passengers! My responsibility!"), Torrance could be cynically dismissed as little more than a dad-bod Rambo traipsing through the Southeast Asian jungle with rifle in hand as he selflessly clashes with the villainous trigger-happy locals. But there's something about the lead actor's stoic presence here, with every wheeze and wrinkle in full view, that has you thinking that maybe something deeper is going on here, something just outside the tropes of an action movie. It ain't Shakespeare, but if the bread-and-butter movies of Butler's career were as compactly entertaining and as plausible (granted, a relative term) as Plane, he might get a little more respect.
A note to readers: Bold and uncensored, The Austin Chronicle has been Austin's independent news source for over 40 years, expressing the community's political and environmental concerns and supporting its active cultural scene. Now more than ever, we need your support to continue supplying Austin with independent, free press. If real news is important to you, please consider making a donation of $5, $10 or whatever you can afford, to help keep our journalism on stands.
READ MORE
More Gerard Butler Films
Tense exploration of Afghanistan's chaos camouflaged as an action flick
Richard Whittaker, May 26, 2023
Suspend disbelief for this splendid symphony of blood and bullets
Josh Kupecki, Sept. 17, 2021
More by Steve Davis
Miyazaki's gorgeous but oddly obtuse return to animation
Dec. 8, 2023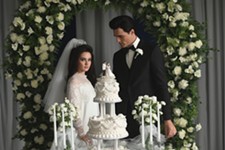 Measured journey behind closed doors of rock & roll's most famous marriage
Nov. 3, 2023
KEYWORDS FOR THIS FILM
Plane, Jean-François Richet, Gerard Butler, Daniella Pineda, Tony Goldwyn, Mike Colter, Yoson An, Evan Dane Taylor, Paul Ben-Victor, Remi Adeleke, Joey Slotnick
MORE IN THE ARCHIVES