The Legend of La Llorona
2022, R, 98 min. Directed by Patricia Harris Seeley. Starring Autumn Reeser, Antonio Cupo, Danny Trejo, Angélica Lara, Nicolas Madrazo, Zamia Fandiño, Edgar Wuotto.
It's a centuries-old Mexican folktale told by generations of parents to scare the bejesus out of their niños with the reputed aim of keeping them safe: Wander too far from home, little ones, and the spectral apparition of La Llorona — "The Weeping Woman" — will snatch you up as she roams the water's edge, futilely searching for her long-dead children. There are myriad versions of this ghost story, with the best-known being the Medea-like filicide committed by a beautiful woman named Maria, who vengefully drowns her two offspring in a river after spying her wealthy husband with another woman and then kills herself. Among other things (including novels, plays, songs, TV shows), the legend has inspired a slew of mostly mediocre Mexican supernatural horror movies in the last 60 years (and a sanitized animated one), as well as the poorly received but financially successful 2019 American take on the monstrous madre, The Curse of La Llorona, the sixth film in the Conjuring franchise. And now, there's yet another cinematic retelling, this time called The Legend of La Llorona, presumably made in the spirit (pun intended) of trying to better live up to this fabled piece of Mexican lore. This umpteenth time is not a charm.
Here, the oft told tale is framed in the present-day context of an American family vacationing somewhere in remote Mexico, not long after the death of an infant daughter. The grieving parents, Carly (an oddly unsympathetic Reeser) and Andrew Candlewood (hot daddy Cupo), bring their young son Danny (Madrazo) along on the trip, much to the surprised dismay of the housekeeper of the rented hacienda (an affecting Lara), who nervously crosses herself whenever anything spooks her. Apparently, Mom and Dad neglected to read the part of the travel brochure noting the mysterious disappearances of numerous kids in the area, and before long the otherworldly La Llorona, looking a little like Lily Munster on a bad day and wailing like a banshee, begins to torment the family and ultimately abducts Danny, his freaked-out parents in pursuit with the help of a local taxi driver (Trejo, who only looks comfortable when pumping a shotgun).
The story and screenplay by Cameron Larsen and Jose Prendes, respectively, take a significant liberty with the legend for the purpose of a last-minute revelation that's more a yawner than anything. But even if the disclosure had worked, the film offers little authentic horror (the one jump scare doesn't count) and its suspense is negligible, though some creepy imagery, such as scorched dismembered doll arms, may momentarily get under your skin. There's also something slightly offensive about the movie's willingness to sacrifice the Indigenous characters aiding the Candlewoods' effort to save their kid. But when the script briefly Rambo-izes its corporeal mother, be prepared to guffaw at what may be the incipient absurd movie moment of 2021. After grabbing a kitchen knife and shovel to embark on a mission to rescue her kidnapped son, the frantic Carly inexplicably halts before exiting the house to utter an apropos-of-nothing howler that stops The Legend of La Llorona deader than its titular ethereal howler: "I'm coming baby, Mommy's coming." The lack of any discernible exclamation point in that recitation says it all.
Available on VOD Jan. 11.
A note to readers: Bold and uncensored, The Austin Chronicle has been Austin's independent news source for over 40 years, expressing the community's political and environmental concerns and supporting its active cultural scene. Now more than ever, we need your support to continue supplying Austin with independent, free press. If real news is important to you, please consider making a donation of $5, $10 or whatever you can afford, to help keep our journalism on stands.
READ MORE
More by Steve Davis
Miyazaki's gorgeous but oddly obtuse return to animation
Dec. 8, 2023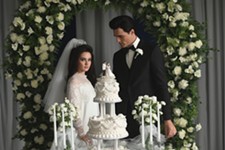 Measured journey behind closed doors of rock & roll's most famous marriage
Nov. 3, 2023
KEYWORDS FOR THIS FILM
The Legend of La Llorona, Patricia Harris Seeley, Autumn Reeser, Antonio Cupo, Danny Trejo, Angélica Lara, Nicolas Madrazo, Zamia Fandiño, Edgar Wuotto
MORE IN THE ARCHIVES