Writing With Fire
2021, NR, 94 min. Directed by Sushmit Ghosh, Rintu Thomas.
The rise of social media has led to the desire for rapid, immediate news, which is what a small group of women are discussing in a meeting at the top of the documentary Writing With Fire. These women belong to Khabar Lahariya, a nearly 20-year-old organization strictly composed of female journalists from the Dalit caste in India (the lowest caste in the country). The pivot from newspaper to video isn't an easy one – some women on the staff voice their concerns about learning a new form so quickly, but others exude confidence, instantly diving head on and embracing Khabar Lahariya's new way of breaking news.
Writing With Fire focuses on three reporters from the group. It opens on Meera Devi, the veteran of the three, reporting on a rape in a nearby village, a crime that's been devastatingly ignored by the police due to mafia corruption. Meera's mature and smart, an idol to her two daughters, but to her husband her job is just a hobby (he mentions in an interview that he expects her to fail, which is the only reason he lets her work). Her colleague Suneeta Prajapati is a brightness in the documentary, a woman who has a natural skill when it comes to investigative journalism, one made clear as she begins to uncover the unlawful and dangerous working conditions of illegal mines.
Then there is Shyamkali Devi, a woman struggling to keep up with the pivot to video, but whose dedication to learning is inspiring. Yet the documentary's portrait of her is the least developed of any of the three women. One in-depth interview with her reveals that she's a victim of domestic abuse, but directors Sushmit Ghosh and Rintu Thomas don't linger on that, trudging on and never following up on the hardships she personally faced to have a career.
Ghosh and Thomas weave these women's work together until the documentary hits the rise of Prime Minister Narendra Modi, whose election jeopardizes the rights of women across the country. At this point the documentary's momentum shifts, and the directors turn their eyes onto the team's coverage of the election cycle where not much context is given, outside of the fact that the women of Khabar Lahariya are hesitant about Modi and the overwhelmingly male-dominated and religiously entwined Bharatiya Janata Party.
"[A woman's] life is so vulnerable," Suneeta muses after working on a piece about an elderly female journalist who was brutally murdered with an axe after heavily criticizing the rise of Hindu nationalism in relation to the BJP. Her murder is the first of many that follow, depicting the risk these women take to pursue their passion of journalism. But it's not just corrupt politicians that stand in the way of these women and their careers: Familial obligations and cultural expectations also halt their dreams. Writing With Fire is at its best when emphasizing the barriers these women have to overcome daily to fulfill their desires to be journalists, and showcasing the importance of Khabar Lahariya's work where corruption runs amok.
A note to readers: Bold and uncensored, The Austin Chronicle has been Austin's independent news source for over 40 years, expressing the community's political and environmental concerns and supporting its active cultural scene. Now more than ever, we need your support to continue supplying Austin with independent, free press. If real news is important to you, please consider making a donation of $5, $10 or whatever you can afford, to help keep our journalism on stands.
READ MORE
More Films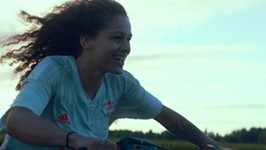 Tale of a French bike gang gets revved up by a vibrant performance
Alejandra Martinez, March 24, 2023
Unsubtle tale of addiction and redemption raised up by great performances
Kimberley Jones, March 24, 2023
More by Jenny Nulf
Disney+ graphic novel adaptation is not just another superhero show
March 16, 2023
Los Espookys' Julio Torres makes his playful film debut
March 14, 2023
KEYWORDS FOR THIS FILM
Writing With Fire, Sushmit Ghosh, Rintu Thomas
MORE IN THE ARCHIVES