Bruised
2021, PG-13, 129 min. Directed by Halle Berry. Starring Halle Berry, Adan Canto, Stephen McKinley Henderson, Shamier Anderson, Nikolai Nikolaeff.
Not reviewed at press time. MMA drama, with Halle Berry as a down-at-heel fighter trying to balance her struggles in the octagon with unexpected motherhood.
A note to readers: Bold and uncensored, The Austin Chronicle has been Austin's independent news source for over 40 years, expressing the community's political and environmental concerns and supporting its active cultural scene. Now more than ever, we need your support to continue supplying Austin with independent, free press. If real news is important to you, please consider making a donation of $5, $10 or whatever you can afford, to help keep our journalism on stands.
READ MORE
More Halle Berry Films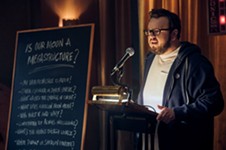 Disaster flick + Dyson sphere = Roland Emmerich's latest
Matthew Monagle, Feb. 11, 2022
Welcome back, Mister Wick!
Marc Savlov, May 17, 2019
KEYWORDS FOR THIS FILM
Bruised, Halle Berry, Halle Berry, Adan Canto, Stephen McKinley Henderson, Shamier Anderson, Nikolai Nikolaeff
MORE IN THE ARCHIVES