6:45
2021, R, 93 min. Directed by Craig Singer. Starring Michael Reed, Augie Duke, Joshua Matthew Smith, Armen Garo, Thomas G. Waites, Allie Marshall, Remy Ma.
The definition of insanity, it's said, is doing the same thing over and over again and expecting a different result. That's actually the opposite of time loop stories, where a protagonist drives themselves crazy when they realize they are the only person with the requisite level of déjà vu to recognize that they have indeed been here before. Mostly, their antics are played for comedy (Groundhog Day, Palm Springs, and even the splattery Happy Death Day films), but chrono-chiller 6:45 finds the trauma in the repetition.
The tropes of the genre are there, with Bobby (Reed) waking up in the same hotel room in the same out-of-season seaside town again and again. However, he has more than just metaphysical reasonings about self-determination to get back into linear time. Every day, he and his fiancée, Jules (Duke, Bad Kids Go to Hell, are murdered by the same mysterious figure. Worse, still: She has her throat viciously cut, and Bobby, every time still stunned by the horror, drops to his knees as the killer snaps his spine.
Framed at off-kilter angles and deliberately eye-straining depth of field by director of photography Lucas Pitassi, there's a chilly sense of unease that pervades the town of Bog Side. It seeps like mist through what seems to be a storybook romance between Jules and Bobby, tenderly explored by Duke and Reed even as its jagged interior begins to poke through the cotton candy love story they tell themselves. But each iteration of the day reveals new cracks under the facade, like how sea spray leeches into sandstone, leaving it to peel away in crumbling layers. The dysfunction in the core relationship seems to be the key, as strange details are revealed – by bar patrons who seem to know more about the couple than they should, by the surly-friendly B&B owner (Garo, best known as Vinyl's mob heavy, Corrado Galasso), and by Bobby's own slow introspection and realization about his own role in this temporal trap.
6:45 sets up an existential horror that it doesn't quite pay off. After his inevitable attempts to outwit the loop, there is a brief sense of acceptance, as if Bobby is prepared to make a hideous trade: Repeat a perfect day with the knowledge of a brief, horrifying end. But Robert Dean Klein's script has a different Faustian pact in mind. Still, 6:45 is undeniably haunting, with a resolution that aims to leave the audience a little queasy: not at the violence (after seeing Julie's throat graphically cut and Bobby's neck broken multiple times, they should almost be inured to it), but at the stomach-drop that the reveal will induce. 6:45 is a deliberately uncomfortable watch, a loveless romance that's left to bleed out again and again.
A note to readers: Bold and uncensored, The Austin Chronicle has been Austin's independent news source for over 40 years, expressing the community's political and environmental concerns and supporting its active cultural scene. Now more than ever, we need your support to continue supplying Austin with independent, free press. If real news is important to you, please consider making a donation of $5, $10 or whatever you can afford, to help keep our journalism on stands.
READ MORE
More by Richard Whittaker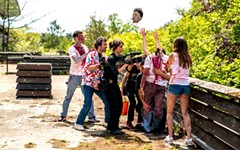 French remake of beloved Japanese movie-making comedy adds a little
Sept. 30, 2022
Wall-to-wall Godzilla in the new show, opening tonight
Sept. 30, 2022
KEYWORDS FOR THIS FILM
6:45, Craig Singer, Michael Reed, Augie Duke, Joshua Matthew Smith, Armen Garo, Thomas G. Waites, Allie Marshall, Remy Ma
MORE IN THE ARCHIVES