Stealing Chaplin
2021, R, 105 min. Directed by Paul Tanter. Voice by Stephen Knowles. Starring Simon Phillips, Doug Phillips, Bianca Katz, Anne-Carolyne Binette, Michael Ray, Cheryl Prater, Liliana Vargas, Wayne Newton.
Charlie Chaplin is not buried in Las Vegas. That immediate digression from geographical reality is the first thing to mark the charming and silly Stealing Chaplin from reality, even if it does take a true-life bizarre incident as its spur. In 1978, two automechanics dug up the body of the silent movie genius from its resting place near Lausanne, Switzerland, and attempted to extort the family for its return. This oddball British comedy starts by relocating the graverobbing to Las Vegas, and becomes enjoyably daffy from there.
When Cal and Terry (Simon and Doug Phillips) are first seen in priests robes on Sin City's Strip, they aren't experienced in funereal practices, or even men of the cloth. They may not be holy, but they are definitely fools: low-level con artists with the self-assured but idiotic Cal getting them consistently into trouble, and the even dopier Terry only exacerbating all situations. Fending off brutal loan sharks and avoiding their intrusive landlord, the duo settle on a harebrained scheme to dig up the remains of the Little Tramp and ... well, somehow convince somebody to pay for them to be returned. No one claimed they were bright, and their comedy of errors becomes even more hapless due to Cal's insistence on dragging a waitress (Katz) into it.
The latest in a long line of collaborations between the Phillips brothers and director Paul Tanter, Stealing Chaplin overcomes its low-budget limitations in no small part because of the easy banter between the siblings, a mixture of timing and delivery that can only be borne from years of wheedling and needling, translated into their characters. A few years ago, the snappy result might have been lazily tagged as post-Tarantino, but instead this harkens back to the petty crook comedies that were a hallmark of midcentury British cinema, like a franchise that had got up just enough steam to make an American entry into the series. And franchise it seems to have become, with a planned sequel, Stealing Elvis, taking the pair to Memphis for a quick gander at the king's corpse. It's easy to imagine that the format will be transferable, even if the dopey duo inevitably overcome a few of story-compelling strains on their familial bonds during the closing clumsy shoot out. Watched over by the affable voice of Chaplin himself (narrated by Knowles), they're dopes, but they're fun company.
Stealing Chaplin debuts on Amazon Prime, Aug. 3.
A note to readers: Bold and uncensored, The Austin Chronicle has been Austin's independent news source for over 40 years, expressing the community's political and environmental concerns and supporting its active cultural scene. Now more than ever, we need your support to continue supplying Austin with independent, free press. If real news is important to you, please consider making a donation of $5, $10 or whatever you can afford, to help keep our journalism on stands.
READ MORE
More by Richard Whittaker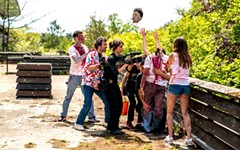 French remake of beloved Japanese movie-making comedy adds a little
Sept. 30, 2022
Wall-to-wall Godzilla in the new show, opening tonight
Sept. 30, 2022
KEYWORDS FOR THIS FILM
Stealing Chaplin, Paul Tanter, Simon Phillips, Doug Phillips, Bianca Katz, Anne-Carolyne Binette, Michael Ray, Cheryl Prater, Liliana Vargas, Wayne Newton
MORE IN THE ARCHIVES