My Heart Can't Beat Unless You Tell It To
2021, R, 89 min. Directed by Jonathan Cuartas. Starring Patrick Fugit, Ingrid Sophie Schram, Owen Campbell, Katie Preston, Moises L. Tovar.
"My heart can't beat unless you tell it to." So go the lyrics to Miami soul chanteuse Helene Smith's "I'm Controlled By Your Love," and so goes the story of the sibling of the crumbling, heartbreaking Tribeca Film Festival selection of the same name. The decrepit and faded beige home of siblings Dwight (a gaunt and hollow-eyed Fugit), Jessie (Schram, angular and brooding), and Thomas (the elfin Campbell, of the equally bleak Super Dark Times) has become a pit of codependence. "It has to be the three of us, together," Jessie tells Dwight, who has started to realize that hanging around, re-enacting Christmas on a monthly basis, singing tuneless karaoke, killing drifters and day laborers so that the pale, wan, and weak Thomas can drink their decanted blood, is no life at all.
The question of what Thomas is was clearly settled a long time ago by his elder brother and sister, and they don't see themselves as playing Renfield to his Dracula. He is their brother, and what they do has become their tragic norm. For Jessie, it's a warm circle: for Dwight, an ever-tightening cycle, given respite solely by visits with a local prostitute (Preston) where the sex becomes an entree to conversations about longing and futures; and for Thomas a curse, the final path of a childhood lost to whatever it is happening here. "I don't want to live like this," he wails, to which Dwight can only respond, "We have to."
In this rusted nowhere, options are truly limited, and writer/director Jonathan Cuartas leaves their story open-ended at the beginning. There's no explanation how they got there, or how long this has been going on, only that it's been long enough for their patterns to have been set, and for them to start corroding to this untenable situation, of murder and selling old clothes for spare change, working dead end jobs. Their situation is one that any family with a family member with a long-term sickness or addiction, and no resources to deal with it, will recognize. Cuartas tenderly catches the scenario at the end of the road, leaving only the question of who, if any, will be able to walk away.
Not that their existence is tenable for anyone that crosses their paths, and Cuartas' script gives plenty of space for the core trio to explore their tragic roles in this disaster. This is a family drama about transgression, after all, and it's all a saddening path to the final step too far.
Available on VOD now.
A note to readers: Bold and uncensored, The Austin Chronicle has been Austin's independent news source for over 40 years, expressing the community's political and environmental concerns and supporting its active cultural scene. Now more than ever, we need your support to continue supplying Austin with independent, free press. If real news is important to you, please consider making a donation of $5, $10 or whatever you can afford, to help keep our journalism on stands.
READ MORE
More Patrick Fugit Films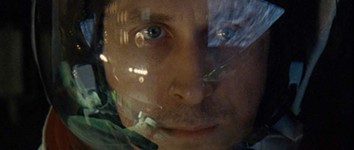 Gosling and Chazelle's moon man biopic soars
Richard Whittaker, Oct. 12, 2018
Elisabeth Moss stars in Alex Ross Perry's elliptical psychodrama
Josh Kupecki, Sept. 11, 2015
More by Richard Whittaker
Five page-turners for the film fan in your life who wants the whole story
Dec. 8, 2023
Still bright, brassy, and enchanting, this production of the sharp-tongued classic musical still needs to fix its modern ending
Dec. 8, 2023
KEYWORDS FOR THIS FILM
My Heart Can't Beat Unless You Tell It To, Jonathan Cuartas, Patrick Fugit, Ingrid Sophie Schram, Owen Campbell, Katie Preston, Moises L. Tovar
MORE IN THE ARCHIVES