Frank Ferrante's Groucho
2021, NR, 82 min. Directed by Dreya Weber. Starring Frank Ferrante.
There's an old story about Groucho Marx. One day, when the Marx Brothers were still primarily a stage act, he was too ill to perform. Rather than cancel the show, he told little brother Zeppo, "Just put on the glasses, paint on the moustache, and be me. You know the act. No one will know the difference."
So Zeppo takes the stage, and no one notices he's not the real Groucho, who keeps reporting in sick. Then, one night, Zeppo hears a familiar laugh from one of the boxes – it was Julius Henry Marx, the "real" Groucho. Of course, Zeppo asked him why he was in the seats, and not on stage. "Because I've never had a chance to see myself perform," he deadpanned back.
What would Julius make of Frank Ferrante's version of his irascible, chaos-loving, self-deprecating egomaniac in Frank Ferrante's Groucho? He'd probably appreciate the closest modern audiences will get to seeing the original on stage, even if this is the filmed version of Ferrante's resurrection of the act. After all, he's been Groucho for almost as long as Julius was, having first donned the distinctive look in 1987 for the award-winning Groucho: A Life in Revue (hand-selected by Julius' son, playwright Arthur Marx), as well as in multiple revivals of Marx Brothers stage shows. For those that don't know, the quintet of buffoons – Harpo, Zeppo, Gummo, Chico, and of course Groucho himself – would finesse their shows on-stage before turning them into films. Well, that's pretty much what Ferrante has done for his solo (well, except for music director Gerald Sternbach tinkling the ivories) act, An Evening With Groucho, as filmed at the Cincinnati Playhouse.
After 35 years and 3,000 performances, his Groucho should be finessed, but that's an understatement. Ferrante's Groucho proves Julius' point: if you know the act good enough, anyone could be Groucho (there's even a gag in here about that), but few will ever be as good as Ferrante. It's up there with Hal Holbrook's Mark Twain, or Val Kilmer's Mark Twain (hey, if there's room for multiple Grouchos ... ), or Holland Taylor's Ann Richards, or Jeffrey Combs raising the spirit of Edgar Allan Poe. Ferrante mixes Groucho's songs with old material, reminiscences about Julius from Groucho's viewpoint, and plenty of audience interaction that feels like the Groucho we all know from the films. Would Julius approve? As long as the checks clear, he'd probably retort, but you can bet he'd be laughing along.
A note to readers: Bold and uncensored, The Austin Chronicle has been Austin's independent news source for over 40 years, expressing the community's political and environmental concerns and supporting its active cultural scene. Now more than ever, we need your support to continue supplying Austin with independent, free press. If real news is important to you, please consider making a donation of $5, $10 or whatever you can afford, to help keep our journalism on stands.
READ MORE
More by Richard Whittaker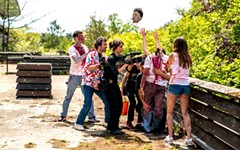 French remake of beloved Japanese movie-making comedy adds a little
Sept. 30, 2022
Wall-to-wall Godzilla in the new show, opening tonight
Sept. 30, 2022
KEYWORDS FOR THIS FILM
Frank Ferrante's Groucho, Dreya Weber, Frank Ferrante
MORE IN THE ARCHIVES