F.T.A
1972, R, 97 min. Directed by Francine Parker.
Army recruiting posters during the Nixon years promised – without the slightest bit of irony – "Fun, Travel, and Adventure" to young Americans if they enlisted to fight an increasingly pointless war waged by their country in Indochina. It's unclear whether these same perks were also offered to drafted GIs before they were shipped overseas in a misbegotten quest to keep another domino from falling. As deployed soldiers became more disillusioned with the nowhere conflict in southeast Asia, however, the antiwar movement born and nurtured on college campuses began to emerge within the military rank and file as well, as soldiers dared to challenge what they perceived as the Big Lie. Using the initials of the Army's clueless recruitment slogan, they adopted the acronym "FTA" as a counter-mantra. In polite circles, it stood for "Free the Army". In uncensored ones, Foxtrot Tango Alpha became middle-finger shorthand for telling the Establishment what it could do with its unpopular war.
F.T.A is a shaggy time capsule documenting a 1971 antiwar road show headlined by diehard Hollywood activists and Klute co-stars Sutherland and Fonda. It hopscotched the Pacific Rim to places where U.S. military bases were being used as staging areas, re-armament depots, and personnel transfer points servicing American military efforts. First stop Hawaii, then Okinawa, the Philippines, and finally Japan. Agitprop theater in the guise of political vaudeville, the scrappy revue was comprised of satirical skits, protest songs, musical parodies, and literary readings performed on off-base makeshift stages for the entertainment of simpatico troops who did not support the war. It was the antidote to the USO shows hosted by uber-Republican and Nixon crony Bob Hope: no xenophobic and sexist jokes, no patriotic grandstanding, no Joey Heatherton.
Among the highlights of the FTA Show excerpted in the documentary are fast-talking Sutherland and Michael Alaimo providing color commentary on the war in sports-announcer style (the clip is a skillfully cut splice of different performances of the sketch); a charismatic Len Chandler folk-singing his original compositions, "My Ass is Mine" and "Set the Date Written"; and a frisky song-and-dance number about female solidarity with the quartet of Fonda, Pamela Donegan, Rita Martinson, and Holly Near ending the performance a la Rockettes. (The Oscar-winning Fonda is game for anything here, but she can't really carry a tune.) No matter what they're doing onstage, all of the performers appear to have checked in their egos at the door and come across as vitally committed to their cause. For those old enough to remember, it was a different zeitgeist.
While the cabaret performances are the documentary's draw, the movie comes most alive in the interspersed interviews with servicemen and women willing to speak their minds, whether it's about institutional racism in the military, the imperialistic siting of bases in Asia, and, of course, the ugliness of the war itself, in all of its manifestations. These are average Joes and Janes speaking from the heart and the gut. When initially released in 1972, the film barely played a week before it was pulled from circulation, presumably as a result of political pressures. Now, almost a half-century later, this digitally restored version of the documentary (thank you Hollywood Foreign Press Association!) allows those voices to be heard by generations for whom the Vietnam War is a historical abstraction. Pump up the volume.
Available now as a virtual cinema release.
A note to readers: Bold and uncensored, The Austin Chronicle has been Austin's independent news source for over 40 years, expressing the community's political and environmental concerns and supporting its active cultural scene. Now more than ever, we need your support to continue supplying Austin with independent, free press. If real news is important to you, please consider making a donation of $5, $10 or whatever you can afford, to help keep our journalism on stands.
READ MORE
More Films
Spanish faith-based horror commits the sin of predictability
Jenny Nulf, Dec. 1, 2023
Restoring the reputation of the sexologist and researcher
Alejandra Martinez, Dec. 1, 2023
More by Steve Davis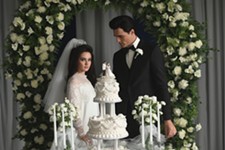 Measured journey behind closed doors of rock & roll's most famous marriage
Nov. 3, 2023
Ryan and Duchovny ponder the road not taken in magical rom-com
Nov. 3, 2023
KEYWORDS FOR THIS FILM
MORE IN THE ARCHIVES