Nomad: In the Footsteps of Bruce Chatwin
2020, NR, 89 min.
There are two constants about Werner Herzog's documentaries. First, that he never seems interested in approaching the same topic twice. Second, Werner Herzog himself. His recent films have been through his eyes, always his cerebral, thoughtful, gnostic interpretation of the world. That's why it's so surprising that his latest, an anti-biography of his friend and collaborator, the writer and adventurer Bruce Chatwin, seems to drift into the archaeological fascinations of his 2011 paleolithic wonder, Cave of Forgotten Dreams, with a swatch of preserved prehistoric flesh. It was an heirloom of Chatwin's family, and here it becomes a seemingly opaque clue to Herzog's intentions.
There is nothing so prosaic as historical facts about Chatwin here, or how he'd already burned through a career as an antiquarian at Sotheby's, and undertaken archaeological studies before he took off to South America to research what would become his experimental ethnographic masterpiece, In Patagonia. That's nominally where Herzog's story begins, but then again, not. The scrap of ancient flesh is what's really important, as Herzog ignores the search for any interior examination of Chatwin, instead looking at what fascinated him.
In every other way, this is a conventional (ha! as if the word exists in his orbit) Herzog documentary, narrated in such a way as to bind together a structure that is anecdotal and digressionary even by his standards. A visit to Chatwin's wife, Elizabeth, is interweaved with a visit to the Avebury neolithic complex: Herzog discusses at length a series of photos of nomadic Patagonian tribes, where the meaning of their actions is lost; there's an old rucksack that Chatwin left the filmmaker. Initially, they seem disconnected. But like the mystical ley lines and aboriginal songlines that fascinated both men, those events and items are markers, memorials, and points of intersection between fellow wanderers.
Chatwin may be the nominal subject, but this film is really about Herzog: Not in a self-serving way but, rather, self-analyzing. If he can understand what fascinated Chatwin, it seems he will be one step closer to understanding himself. That may be why this is the most naked, the most exposed, the most emotional he has been since the pivotal scene in 2005's Grizzly Man, when he seems at a loss exactly what to do with the audio recording of Timothy Treadwell being eaten by a bear. This isn't the carefully curated version of Herzog, the affable old German quietly voicing wonder about the universe, or detached resignation for the fate of humanity. This is Herzog, looking back at a kindred spirit that he lost along the way.
A note to readers: Bold and uncensored, The Austin Chronicle has been Austin's independent news source for almost 40 years, expressing the community's political and environmental concerns and supporting its active cultural scene. Now more than ever, we need your support to continue supplying Austin with independent, free press. If real news is important to you, please consider making a donation of $5, $10 or whatever you can afford, to help keep our journalism on stands.
READ MORE
More Films
Unerotic and unthrilling home invasion flick is seriously unsubtle
Richard Whittaker, Jan. 14, 2022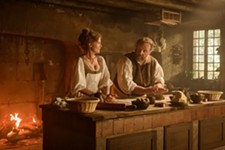 French historical cooking drama mixes class and cuisine
Trace Sauveur, Jan. 14, 2022
More by Richard Whittaker
Joy-filled animated family SF comedy is an explosion of fun
Jan. 14, 2022
The monsterific animated franchise lumbers back out of the tomb
Jan. 14, 2022
KEYWORDS FOR THIS FILM
Nomad: In the Footsteps of Bruce Chatwin
MORE IN THE ARCHIVES