Warning: Do Not Play
2020, NR, 86 min. Directed by Kim Jin-Won. Starring Seo Ye-ji, Jin Seon-kyu, Kim Jae-in, Kim Bo-ra, Ji Yoon-ho.
Ever reminisce about going to a film festival, and you pull out some old programs, start flicking through them, and think to yourself, I wonder what happened to that promising young filmmaker? Or, that film disappeared without trace, I wonder who has a copy?
Warning: Do Not Play, the latest from South Korean horror director Kim Jin-won, is born of those thoughts, some of which may have plagued the filmmaker himself. His debut, superbloody The Butcher, was a shocking calling card that scared up a U.S. release (rare back then for a K-horror), and then two years later he followed that up with a short ghost story, "The Black Line." And then nothing for a decade.
His protagonist/proxy, Mi-Jung (Seo), is in a similar boat. She's a hot-shot young director, having crafted a short that caught enough eyes that she signed a development deal with a small production house. They're waiting for her next script; Unfortunately for them, and worse for her, she doesn't have one. Everything she drafts is solid, but bland and predictable, and she's hiding them while waiting for a better idea - even if it's not hers (write what you know, unless what someone else know's is better). In the classic tradition of Asian horror, she hears rumor of a tape: in this case, it's a mysterious horror movie that played one time at a festival, caused outrage, and was never seen again.
Kim's script is dripping with with such industry nods and in-jokes that only make it a little richer and smarter (who hasn't heard of - or even been at - one of those legendary "someone passed out" screenings?), and that's in part how he can get away with Mi-jung being borderline unlikable. She's clearly painted herself into a corner with her producers, and her desperate measures to come up with a story - flirting with film students who are a little in awe of her modicum of fame - feel explicable. Similarly, her interactions with the actual filmmaker, Jae-hyun (Jin), seemingly driven insane by his his creation, are fired up by her own monomania.
Warning: Do Not Play jumps wildly between horror genres, flitting between found footage, classic dry K-Horror tropes, flat-out gore, and even the modern trend of CG-enhanced supernatural encounters. It could be too much, but instead Kim hits a surprising balance, letting each flow into the other while never taking attention away from the self-destructive obsession that filmmaking can become. It's also one of those times when the writer really knowing the context makes the film stronger: it feels like it's been written by someone who has been through grind of film school and the heady fear of the festival circuit, all the while grounded in the mundanity of low-budget production.
While it really is the conventional horror that the wonderful One Cut of the Dead only pretends to be, Warning: Do Not Play would make the great second act for a double bill with Shinichirou Ueda's hilarious and sweet metacommentary on life in the indie horror trenches. The grisly denouement shows some of the cutting creativity Kim displayed in the much more unpleasant The Butcher, but without its nihilistic twinges, and smatters it with just enough (namechecked) The Blair Witch Project references that it's knowing without being smug.
Warning: Do Not Play is available on Shudder now.
A note to readers: Bold and uncensored, The Austin Chronicle has been Austin's independent news source for over 40 years, expressing the community's political and environmental concerns and supporting its active cultural scene. Now more than ever, we need your support to continue supplying Austin with independent, free press. If real news is important to you, please consider making a donation of $5, $10 or whatever you can afford, to help keep our journalism on stands.
READ MORE
More by Richard Whittaker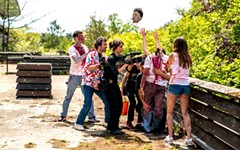 French remake of beloved Japanese movie-making comedy adds a little
Sept. 30, 2022
Wall-to-wall Godzilla in the new show, opening tonight
Sept. 30, 2022
KEYWORDS FOR THIS FILM
Warning: Do Not Play, Kim Jin-Won, Seo Ye-ji, Jin Seon-kyu, Kim Jae-in, Kim Bo-ra, Ji Yoon-ho
MORE IN THE ARCHIVES