The Ghost of Peter Sellers
2018, NR, 93 min. Directed by Peter Medak.
What's it like to have your career sabotaged by a genius? That's the question that filmmaker Peter Medak asks of himself in this documentary - part behind-the-scenes, part autopsy - exploring how Peter Sellers capsized piratical comedy Ghost in the Noonday Sun.
Looking back at the nearly-forgotten 1973 comedy that sent him from Hollywood's new darling to a made-for-tv pariah, Medak sits with just about everyone even peripherally involved with the production still alive, and doesn't simply recount the debacle, but works through the emotional cost. "I want to kill people," the director says, "But they are dead."
Top of that list may be Sellers. Modern audiences have increasingly become caught up in the discussion of how to separate a flawed artist from great art. In the case of Sellers, audiences have been doing it for decades. Well, first, a clarification. For American audiences, he was the incomparable star of Doctor Strangelove and The Pink Panther. But British viewers have a slightly different perspective. Sellers become famous as one-fourth of The Goons, the transgressive, surrealist, blockbuster radio comedy show that opened the door for Monty Python with its high-scale weirdness. He tended to play purring, smooth-tongued villains with an acerbic streak - not a far remove from the man himself, whose mercurial moods and measured cruelty was as infamous as his creative streak. Whether it was just arrogance, a mean streak or an undiagnosed mental health disorder, it basically made him a funnier Klaus Kinski, and at least one cast mate tried to kill him during this production.
Adapting Sid Fleischman's piratical romp of a novel, Ghost in the Noonday Sun reunited Sellers with Spike Milligan (the last Goon who would still work with him, a famously kind soul, and deeply troubled by his own mental health issues). Medak was the hot new talent, coming off the critically lauded duo of The Ruling Class and A Day in the Death of Joe Egg, but suddenly found himself at the whim of Sellers, who suddenly decided he just didn't want to make this film any more, and did everything imaginable to sabotage it.
The normal myth of a lost film is either of a maverick genius whose vision exceeds the little minds of petty producers (see Orson Welles and The Magnificent Ambersons, or Alejandro Jodorowsky's Dune), or a genius who cannot wrangle their own idea and self-sabotaged (Welles again, as with the ever-changing The Other Side of the Wind, the near mythical Sn*d*r Cut of Justice League - and Jodorowsky's Dune again). There's even a cottage industry of films about recounting such failures, most of which lean into the former narrative (most notably, Welles' endless shoots in They'll Love Me When I'm Dead, Jodorowsky's Dune, and Lost in La Mancha, covering the failed attempts by another Sellers acolyte, Terry Gilliam, to make The Man Who Killed Don Quixote).
While The Ghost of Peter Sellers may be Medak's version of events, it's more a cathartic act of healing than a revisionist history. The production was a catastrophe (as one of the survivors puts it, they'd never heard of a film where the producers were fired within the first week) and Medak puts much of the blame on his own shoulders.
What's most fascinating is that there's no self-indulgence on Medak's behalf. It's a filmmaker coming to terms with a deep bruise in his life, and the realization that time may heal all wounds, but will still leave a scar. It's as much as an emotional journey as it is a production diary from Hell, and the final moment - Medak's reunion of sorts with Milligan - is a reminder that, behind every failed production there are lives and hearts and creative spirits meant for the best, but never got there.
The Ghost of Peter Sellers is currently available as a virtual cinema release through local arthouse cinemas. Choose from:
• Violet Crown Cinema (Tickets here)
A note to readers: Bold and uncensored, The Austin Chronicle has been Austin's independent news source for over 40 years, expressing the community's political and environmental concerns and supporting its active cultural scene. Now more than ever, we need your support to continue supplying Austin with independent, free press. If real news is important to you, please consider making a donation of $5, $10 or whatever you can afford, to help keep our journalism on stands.
READ MORE
More Peter Medak Films
Oct. 2, 2022
More by Richard Whittaker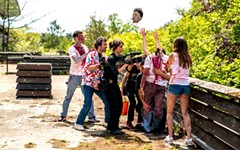 French remake of beloved Japanese movie-making comedy adds a little
Sept. 30, 2022
Wall-to-wall Godzilla in the new show, opening tonight
Sept. 30, 2022
KEYWORDS FOR THIS FILM
The Ghost of Peter Sellers, Peter Medak
MORE IN THE ARCHIVES