Lucky Grandma
2020, NR, 87 min. Directed by Sasie Sealy. Starring Tsai Chin, Hsiao-Yuan Ha, Michael Tow, Woody Fu, Yan Xi, Wai Ching Ho, Clem Cheung.
If there's a message to Sasie Sealy's acerbic comedy gangster comedy, it's very simple. Don't mess with Grandma Wong. She's been through the ringer, as her fortune teller (Wai Ching Ho) points out. With a cigarette constantly hanging out of one side of her mouth, a dead husband (whose shrine in her NYC apartment barely merits a scowl), and an impressively foul attitude, optimism is not exactly her trademark - even when fortune is forecast. But when she takes a bus ride to a Connecticut and can't help but win big at every table, every game, every flip of the card and roll of the dice, she finally manages a crease of a smile.
Bad idea. The polar opposite of the most beloved nai nai of recent years (as adorably portrayed by by Zhao Shuzen in The Farewell), she isn't really worried when a fortune falls into her lap via illicit means, even if it really belongs to the Red Dragon gang. Mainly because, like every irascible and cantankerous old lady, she knows what really happens on these streets, and is prepared to use all the tools at her disposal (and God forbid she calls your auntie about you). She's the kind of old lady that will haggle with a rival gang when procuring their services for a bodyguard.
Deliciously dry and wry, Lucky Grandma invokes unlikely chuckles because Chin embraces her surly nature. The legendary Chinese actress has appeared in everything from The Bridge Over the River Kwai to Casino Royale (and that's just her Western roles); she's a perfect anti-heroine, completely disinterested in the fact that she's managed to trigger a gang war. All she really cares about is watching her shows and being able to belittle her appointed guardian, Big Pong (Ha, a giant who this tiny old lady browbeats into a slumped mess). Well, and maybe buy the odd garish crystal chandelier.
The fusion of Andrew Orkin's score (part traditional Chinese orchestration, part '70s cop show blaring horns), and Eduardo Enrique Mayén's cinematography, which coats everything in the grimy yellow of a lifelong smoker's room, tips the hat towards noir, but Sealy balances that with a deft wit and charm, as well as a third act that doesn't undercut Grandma's curmudgeonliness, but rather adds more dimensions to her constant air of disapproval. Chin grasps all her contradictions, so make time for this bad grandma.
Lucky Grandma is currently available as a virtual cinema release through local arthouse cinemas. Choose from:
• Alamo on Demand (
Tickets here
)
• Violet Crown Cinema (
Tickets here
)
A note to readers: Bold and uncensored, The Austin Chronicle has been Austin's independent news source for over 40 years, expressing the community's political and environmental concerns and supporting its active cultural scene. Now more than ever, we need your support to continue supplying Austin with independent, free press. If real news is important to you, please consider making a donation of $5, $10 or whatever you can afford, to help keep our journalism on stands.
READ MORE
More Tsai Chin Films
Year of the Fish is an animated fairy tale for adults that transposes the story of Cinderella to a Chinatown massage parlor.
Marjorie Baumgarten, Oct. 17, 2008
More by Richard Whittaker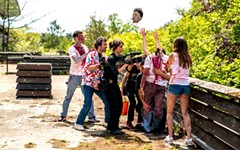 French remake of beloved Japanese movie-making comedy adds a little
Sept. 30, 2022
Wall-to-wall Godzilla in the new show, opening tonight
Sept. 30, 2022
KEYWORDS FOR THIS FILM
Lucky Grandma, Sasie Sealy, Tsai Chin, Hsiao-Yuan Ha, Michael Tow, Woody Fu, Yan Xi, Wai Ching Ho, Clem Cheung
MORE IN THE ARCHIVES