I Still Believe
2020, PG, 115 min. Directed by Andrew Erwin, John Erwin. Starring K.J. Apa, Britt Robertson, Nathan Parsons, Gary Sinise, Shania Twain, Melissa Roxburgh, Reuben Dodd, Cameron Arnett.
Like other overtly Christian-themed movies in recent memory, I Still Believe has an incontrovertible agenda: to confirm a target demographic audience's faith in a Supreme Being, one spelled with a capital "G," usually in the guise of a life-or-death narrative in which God's will always dictates the outcome. At some point in these pre-ordained dramas, which are frequently adapted from a nonsecular literary source, the lead character/author experiences a crisis in religious faith following a traumatic turn of events, those convictions eventually restored and strengthened through the power of prayer. In this film, based on Christian singer-songwriter Jeremy Camp's 2011 memoir of the same name, brash college freshman Camp (ginger-haired Riverdale heartthrob Apa, here with a jet-black mane) arrives from America's heartland to attend school at an unnamed (and seemingly diversity-free) evangelical California university. He instantly falls hard for initially wary classmate Melissa Henning, charmingly played by Robertson without a hint of pretense. Their meant-to-be relationship is first complicated by a friend and musical mentor (Parsons) also crushing on Melissa, and then tragically turned upside down by a grim diagnosis of ovarian cancer only months after they meet. Despite a metastasized liver, the couple decides to marry in the belief that divine providence has destined their union, with romantic gestures, miracles, false hopes, and heartbreak following in short order. As for how it all ends, the title – also an inspirational song nicely performed by Apa in the last reel – says it all.
Like others in this contemporary film genre, I Still Believe doesn't aggressively attempt to convert the faithless, or even prod the ambivalent. The belief or non-belief system you espouse walking into the movie theater will be the same one as you walk out. In the early scenes, the meet-cute romance between Apa and Henning is diverting enough, but everything happens so quickly it's difficult to fully engage in the emotional ups and downs of their relationship once Melissa falls ill. Though the movie's raison d'être is unmistakable from the outset, the most compelling moments come not when God's name is being invoked out loud and with great frequency, but rather when the loving symbiosis between two young people facing adversity and caring for each other is tenderly communicated without uttering any words, conveyed in something as simple as the direct gaze between two pairs of locked eyes. Now that's the notion of a higher power in which we can all believe.
A note to readers: Bold and uncensored, The Austin Chronicle has been Austin's independent news source for over 40 years, expressing the community's political and environmental concerns and supporting its active cultural scene. Now more than ever, we need your support to continue supplying Austin with independent, free press. If real news is important to you, please consider making a donation of $5, $10 or whatever you can afford, to help keep our journalism on stands.
READ MORE
More Andrew Erwin Films
Kurt Warner biopic is too winsome to win big
Steve Davis, Dec. 24, 2021
Christian music doc is just singing to the choir
Adrienne Hunter, Oct. 1, 2021
More by Steve Davis
Ryan and Duchovny ponder the road not taken in magical rom-com
Nov. 3, 2023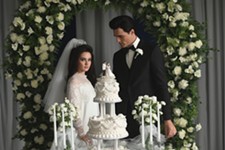 Measured journey behind closed doors of rock & roll's most famous marriage
Nov. 3, 2023
KEYWORDS FOR THIS FILM
I Still Believe, Andrew Erwin, John Erwin, K.J. Apa, Britt Robertson, Nathan Parsons, Gary Sinise, Shania Twain, Melissa Roxburgh, Reuben Dodd, Cameron Arnett
MORE IN THE ARCHIVES