The Call of the Wild
2020, PG, 110 min. Directed by Chris Sanders. Starring Harrison Ford, Omar Sy, Cara Gee, Dan Stevens, Bradley Whitford, Karen Gillan, Colin Woodell, Stephanie Czajkowski, Michael Horse.
This domesticated adaptation of Jack London's 1903 novella tempers the brutality of the book's Darwinist narrative, one in which a St. Bernard/Scotch Shepherd mix named Buck begins as the pampered pet of a well-to-do family in Santa Clara County, Calif., and ends up a wolfish creature running with the pack in the uncharted wilds of the Yukon Territory. It's a Disneyfied version of a literary work that's unsettling by today's standards, foregoing the worst of its canine protagonist's rite of passage on the written page for a more palatable storyline sensitive to the ethical and humane treatment of animals. This tack is largely a welcome one, as most moviegoers likely have no desire to witness the physical and mental suffering that Buck and his sled-team comrades endure in London's short novel, once a staple in high school American literature classes. In the book's savage setting, i.e., the Klondike Gold Rush at the turn of the 19th century, only the fittest are destined to survive, regardless of whether they walk on two or four feet. Under this natural law, mercy is rarely meted out to man or beast.
Though the movie tames much of London's harshness, its intimations of animal cruelty, precipitated by the swing of a club or the snap of a whip, will still upset many adults and youngsters in the audience, particularly given the extent to which The Call of the Wild anthropomorphizes Buck and the other dogs. A scene in which he and the other exhausted sled team members collapse in the snow, beaten down (literally and figuratively) by their ruthless new owner (a bizarrely rabid Stevens, almost foaming at the mouth) is difficult to watch, their facial expressions sad and miserable enough to arouse pity in the hardest of hearts. A 100% computer-generated hound slightly this side of the uncanny valley, Buck exhibits a full spectrum of human traits and emotions in a way that London, who broke literary ground by writing from the dog's perspective, never dreamed possible. He's trustworthy, loyal, helpful, friendly, obedient, brave, and kind, a veritable Boy Scout in mutt's clothing. (He doesn't speak or think out loud, thank God.) For those of us who tend to anthropomorphize their household pets (or infantilize them, as others contend), this idealized Buck makes perfect face-licking sense, although when he deduces that his final companion, the sorrowful and kindly John Thornton (Ford), has a drinking problem and convinces him to get sober, an "awwww" moment becomes an "ugh" one pretty quickly.
As could be expected, screenwriter Michael Green takes certain liberties with London's story, retaining the sequence of both good and bad human beings Buck encounters during his regressive journey from a civilized life to a primal one, but also providing those individuals with backstories and other defining characteristics. It's a mixed bag. At least the heroic Buck remains the focal point here, unlike in other less faithful screen incarnations that mainly trade on the familiar title. In the 1935 20th Century Pictures production, a grizzled Clark Gable and feisty Loretta Young fall in love as Buck diminishes into the supporting role of man's best friend. Just another Hollywood example of the tale wagging the dog.
A note to readers: Bold and uncensored, The Austin Chronicle has been Austin's independent news source for over 40 years, expressing the community's political and environmental concerns and supporting its active cultural scene. Now more than ever, we need your support to continue supplying Austin with independent, free press. If real news is important to you, please consider making a donation of $5, $10 or whatever you can afford, to help keep our journalism on stands.
READ MORE
More Chris Sanders Films
Animated cave dwellers are stealth charmers.
Kimberley Jones, March 22, 2013
Soaring animation should make this story about a Viking boy who befriends his enemy a perennial favorite.
Marjorie Baumgarten, March 26, 2010
More by Steve Davis
Miyazaki's gorgeous but oddly obtuse return to animation
Dec. 8, 2023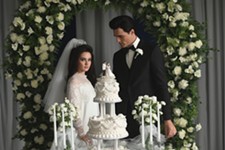 Measured journey behind closed doors of rock & roll's most famous marriage
Nov. 3, 2023
KEYWORDS FOR THIS FILM
The Call of the Wild, Chris Sanders, Harrison Ford, Omar Sy, Cara Gee, Dan Stevens, Bradley Whitford, Karen Gillan, Colin Woodell, Stephanie Czajkowski, Michael Horse
MORE IN THE ARCHIVES