Frankie
2019, PG-13, 98 min. Directed by Ira Sachs. Starring Isabelle Huppert, Brendan Gleeson, Marisa Tomei, Greg Kinnear, Jérémie Renier, Sennia Nanua, Ariyon Bakare, Vinette Robinson, Pascal Greggory.
I don't recall ordering a French-style multigenerational, intercontinental family reunion film set against the paradisiacal, oh so très belle backdrop of the Portuguese seaside city Sintra, but here it is. "Garçon, there's a vaguely Éric Rohmer by way of Woody Allen fluttering of stale genre conventions in my soup. May I instead have the film de joie du jour with a side of light humor, s'il vous plaît? Non? Merde …"
Director Sachs has honed his craft through increasingly fascinating and intimately honest movies about relationships large and small. 2005's Forty Shades of Blue won the Grand Jury Prize at that year's Sundance Film Festival, and one of my favorite cinematic romances remains his sublime and sweet portrait of septuagenarian love under pressure, Love Is Strange. Alas, there's nothing strange about Frankie, although cinematographer Rui Poças' luxuriant long shots of this UNESCO World Heritage Site nestled in the craggy mountains and sultry forests of the Portuguese Riviera are visually sublime to a fault.
French national treasure Isabelle Huppert – who should in her own right be designated a UNESCO World Heritage Site – plays the titular Frankie (née Françoise) Crémont, a former film star and the exceedingly proud if not outright haughty matriarch of a sprawling family, all of whom have been summoned to Sintra for a long-overdue reunion. Frankie, it turns out, has cancer; the prognosis is terminal and thus this presumably final gathering of the tribe, black sheep and all.
There's her doting current husband Jimmy (the always marvelous Gleeson), a man of vast appetites and boundless love for his spouse. He cannot bear to imagine a life post-Frankie, and Gleeson's every movement and expression radiate the character's resigned, melancholy grief. Frankie's previous husband Michel (Greggory, of Rohmer's Pauline at the Beach) soon arrives with a male companion in tow, followed in short order by Ilene (Tomei), Frankie's beloved hairstylist and confidant, who shows up with lovesick suitor Gary (Kinnear) by her side. Also arriving are son Paul (Renier), the aforementioned black sheep, and Frankie's stepdaughter Sylvia (Robinson), her husband Ian (Bakare), and their daughter, Maya (Nanua of The Girl With All the Gifts), who, like Pauline, spends the majority of the movie at the sun-drenched beach, a veritable and literal breath of fresh air in a film that suffers from a surfeit of stagnation both emotional and storywise.
Many purportedly profound discussions occur and everybody and their brother/husband/best friend take long strolls through the forests, following ancient trails and even hoarier dramatic tropes as Dickon Hinchliffe's score portends revelations that never seem to arrive. The ensemble cast is uniformly first-rate, but Sachs' moribund movie is a slog – all those scenes of Frankie's friends and family wandering through the woods made my feet hurt. An authentically moving 10-minute-long denouement finds the assembled relations standing together yet apart atop a cliff overlooking the beach at Azenhas do Mar as the sun sets on both the fractious day and on Frankie's life. It's a gorgeous and affecting sequence, but it can't make up for all the languidly yawn-inducing story that has preceded it.
A note to readers: Bold and uncensored, The Austin Chronicle has been Austin's independent news source for over 40 years, expressing the community's political and environmental concerns and supporting its active cultural scene. Now more than ever, we need your support to continue supplying Austin with independent, free press. If real news is important to you, please consider making a donation of $5, $10 or whatever you can afford, to help keep our journalism on stands.
READ MORE
More Ira Sachs Films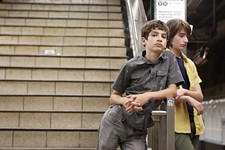 Friendships are tested in this bittersweet coming-of-age tale
Kimberley Jones, Sept. 2, 2016
Heartfelt, seriocomic romance about two longtime partners who wed after 40 years, then discover all is not bliss.
Marc Savlov, Sept. 12, 2014
More by Marc Savlov
The Prince is dead, long live the Prince
Aug. 7, 2022
Texas-made luchadores-meets-wire fu playful adventure
April 29, 2022
KEYWORDS FOR THIS FILM
Frankie, Ira Sachs, Isabelle Huppert, Brendan Gleeson, Marisa Tomei, Greg Kinnear, Jérémie Renier, Sennia Nanua, Ariyon Bakare, Vinette Robinson, Pascal Greggory
MORE IN THE ARCHIVES