Midway
2019, PG-13, 138 min. Directed by Roland Emmerich. Starring Ed Skrein, Patrick Wilson, Luke Evans, Dennis Quaid, Woody Harrelson, Mandy Moore, Alexander Ludwig, Aaron Eckhart, Nick Jonas, Darren Criss, Jake Weber, Tadanobu Asano, Brennan Brown, Etsushi Toyokawa, Jun Kunimura.
You've got to hand it to disaster master Emmerich. He's successfully predicted the imminent future of mankind with 2004's The Day After Tomorrow and 2009's 2012, not to mention – who knows? – the alien invasion Independence Day films. The seer from Stuttgart, as I like to call him, actually reins in his penchant for manic panic overkill in Midway, which features zero heroes outrunning gigantic fireballs and absolutely no Randy Quaid. (Younger, saner brother Dennis Quaid is, however, on hand and, um, acquits himself admirably as Vice Admiral William "Bull" Halsey.)
Midway does a decent job of cramming in not only the eponymous three-day naval battle between the United States Navy and the Imperial Japanese Navy but also treats the audience to a wealth of other, related Greatest Generation's greatest hits. The film opens with U.S. Attache to Japan Edwin Layton (Wilson) chatting ominously with Admiral Yamamoto (Toyokawa) in pre-war Tokyo before moving up the timeline and depicting the Japanese bombing of Pearl Harbor in a harrowing sequence that makes mincemeat of fellow heavy ordnance fetishist Michael Bay's 2001 Pearl Harbor. But wait – that's not all! Emmerich instantly follows the decimation of the American Pacific Fleet with Lt. Colonel James Doolittle's (Eckhart) ballsy retaliatory strike on Tokyo two weeks later, his crash-landing in Japanese-occupied Chinese territory, and his saving from certain death by a group of Chinese rebels loyal to Chiang Kai-shek, one of whom is, thank Buddha!, an English-speaking school teacher. But wait – there's still more!!! Emmerich and screenwriter Wes Tooke make sure to include at least nominal mentions of U.S./Japanese conflicts in the Philippines, the Marshall Islands, the Solomon Islands, and the Battle of the Coral Sea, which I'm certain makes this the most comprehensively crowded World War II "Based on True Events" film not directed by Ken Burns. It's certainly more peripatetic in its desperate attempts to put the actual Battle of Midway into a greater context, war-wise, than Jack Smight's 1976 movie of the same name and subject matter, although this new version lacks the Technicolor and Sensurround bombast that I loved so much when I first saw it at age 10. But I digress.
Emmerich's Midway is a middling movie that aches to be both historically ultra-accurate while straining to sidestep but ending up embracing the shopworn cliches inherent to so many classic WWII films shot either before V-J Day or in the decades to come. Need a cocky, devil-may-care hotshot pilot who suddenly finds terrible responsibility thrust upon him? Check out Skrein's gritty portrayal of Lt. Richard "Dick" Best. You want an Italian-American aviation machinist with ironic, life-affirming nihilist tendencies? Jonas brother Nick as Bruno Gaido fits the bill. Everybody and their brother is unwrapping Beeman's chewing gum and using it to stick snapshots of their best girl next to the altimeter, à la The Rocketeer. War is … well, you know, war.
Midway isn't quite the stand-up-and-cheer WWII movie that I think we could all use in these days of befuddling asymmetrical warfare and a blinkered Commander-in-Chief – but it's no laughable, overly nostalgic tearjerker, either. The many aerial dogfights and vertigo-inducing shots of Torpedo Bombers plunging propwash-first toward the Japanese aircraft carriers have a genuine, sickening thrill to them. And, too, Emmerich's ought-to-be-trademarked off-kilter sense of sly humor is pushed front and center when who should appear on Midway Island, terrified cameraman in tow, but iconic American director John Ford (Geoffrey Blake), who was right there, in real life, filming "The Battle of Midway" sequence for the Frank Capra-produced Why We Fight series of wartime pro-Allies propaganda films. Emmerich has dedicated Midway to "Those brave American and Japanese soldiers who gave their lives during the Battle of Midway" and indeed, despite the carnage and horrors galore, the script treats the Enemy as every bit as human as Our Boys, right up until their bitter, briny end.
A note to readers: Bold and uncensored, The Austin Chronicle has been Austin's independent news source for over 40 years, expressing the community's political and environmental concerns and supporting its active cultural scene. Now more than ever, we need your support to continue supplying Austin with independent, free press. If real news is important to you, please consider making a donation of $5, $10 or whatever you can afford, to help keep our journalism on stands.
READ MORE
More Roland Emmerich Films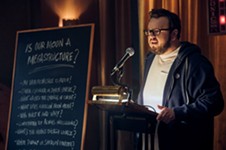 Disaster flick + Dyson sphere = Roland Emmerich's latest
Matthew Monagle, Feb. 11, 2022
ID:R is probably everything you were expecting and less
Marc Savlov, July 1, 2016
More by Marc Savlov
The Prince is dead, long live the Prince
Aug. 7, 2022
Texas-made luchadores-meets-wire fu playful adventure
April 29, 2022
KEYWORDS FOR THIS FILM
Midway, Roland Emmerich, Ed Skrein, Patrick Wilson, Luke Evans, Dennis Quaid, Woody Harrelson, Mandy Moore, Alexander Ludwig, Aaron Eckhart, Nick Jonas, Darren Criss, Jake Weber, Tadanobu Asano, Brennan Brown, Etsushi Toyokawa, Jun Kunimura
MORE IN THE ARCHIVES