Amazing Grace
2019, G, 112 min. Directed by Alan Elliott, Sydney Pollack.
Words fail anyone attempting to describe the singing of Aretha Franklin, a standard this writer won't be exceeding today. Yet maybe this long-incomplete concert movie may capture something closer.
Filmed by director Sydney Pollack over two nights at the New Temple Missionary Baptist Church in Los Angeles in January of 1972, Amazing Grace records the 29-year-old Aretha at the height of her musical powers and in a dramatic return to her gospel roots. The resulting album, part live and part studio, would become the biggest-selling gospel record of all time. Now the film, long delayed by both technical problems and Aretha's characteristic intransigence, and completed by Elliott after Pollack's death, finally catches those nights. Backed by the Rev. James Cleveland, a small band, and the extraordinary Southern California Community Choir, Aretha delivers a stunning, inspirational performance, moving both the choir and the audience to paroxysms of joy and celebration. Pollack's camerawork and direction are also excellent, featuring close-ups of the players and the audience that catch the emotion and amplify the rhythms of the music.
Aretha's father, the Rev. C.L. Franklin, recalls his daughter's childhood and immediately apparent talent: "The gift of her voice … is something hard to describe." More simply, Cleveland, who serves as emcee and accompanist, says Aretha deserves every honorary title she has been given and introduces her later as "The First Lady of Music."
"She can sing anything," Cleveland declares. "'Three Blind Mice,' anything." Then he reminds the audience that the event (despite the numerous cameras and other film equipment) is in part a religious service, and invites them all to "get in the spirit … and the sound of the gospel." When Aretha sounds the first notes of "Wholly Holy," it is as though the heavens themselves have opened, and the spirit is indeed everywhere.
The standards are here: "What a Friend We Have in Jesus," "How I Got Over," "Precious Memories," and of course, "Amazing Grace," the emotional climax of the first night and thus a difficult moment for the film to follow. In addition to the Marvin Gaye opening ("Wholly Holy"), there's a surprising melding of Carole King's "You've Got a Friend" with "Precious Lord, Take My Hand."
There is much improvisation and interplay between singer, accompanist, and choir (energetically directed by Alexander Hamilton), and Pollack does his best to capture all that complex action. It's not a big church, maybe a couple hundred people – mostly African-American, less so the second night (when there's also a glimpse of Mick Jagger). Transcendence is in the air, and everyone seems aware that this is a very, very special occasion.
Devoted fans of the album (and they are myriad) may be slightly surprised to learn that the concert doesn't closely track it – that's just as well, as the pleasures of this aural and visual performance are somewhat different from those on record, and not a whit disappointing. The second night falls off a bit from the first in intensity – hard to do otherwise – and there are too damn many cameras. But there's also a spontaneity that night that has its own rewards, and no one who loves Aretha or soul music or gospel will be disappointed.
Among the truly transcendent geniuses in American music, the late Aretha Franklin is surely high in the pantheon, and this concert delivers her in all her glory. Buy the album Amazing Grace – buy all the albums – and now watch the film and wonder at what we gained, and what we have lost.
A note to readers: Bold and uncensored, The Austin Chronicle has been Austin's independent news source for over 40 years, expressing the community's political and environmental concerns and supporting its active cultural scene. Now more than ever, we need your support to continue supplying Austin with independent, free press. If real news is important to you, please consider making a donation of $5, $10 or whatever you can afford, to help keep our journalism on stands.
READ MORE
More Films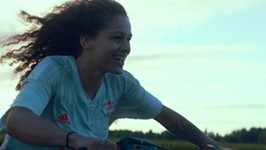 Tale of a French bike gang gets revved up by a vibrant performance
Alejandra Martinez, March 24, 2023
Unsubtle tale of addiction and redemption raised up by great performances
Kimberley Jones, March 24, 2023
More by Michael King
Life beyond the governor's office with Ann Richards' chief aide
Sept. 2, 2022
June 24, 2022
KEYWORDS FOR THIS FILM
Amazing Grace, Alan Elliott, Sydney Pollack
MORE IN THE ARCHIVES