Five Feet Apart
2019, PG-13, 116 min. Directed by Justin Baldoni. Starring Haley Lu Richardson, Cole Sprouse, Moises Arias, Parminder Nagra, Kimberly Hebert Gregory.
Sick-lit is the romance genre du jour, for young adults (and some of us older folks, too), a weepy mixture of first love and terminal illness with an inevitable conclusion. Five Feet Apart is the latest of these onscreen boy-meets-girl stories, and it's a one-hanky cry.
Here, the incurable disease is cystic fibrosis, a hereditary condition in which the lungs progressively deteriorate as the body produces a thick, sticky mucus that compromises the respiratory system. Now in their late teens, both Stella (Richardson, in a strong performance) and Will (Sprouse) have lived most of their lives in and out of hospitals with this affliction, undergoing surgery after surgery to stave off life-threatening infections and chasing experimental drug trials in the hope of a longer life expectancy. Their initial meeting outside the neonatal intensive care unit for CF-diagnosed newborns sparks an attraction between the two (why else would they bicker like that?), but this love story is more complicated than most. Patients with cystic fibrosis must literally keep their distance from each other, or else risk the transmission of highly contagious bacteria with possibly fatal consequences. No touching, no hugging, no kissing, no sex, no physical contact of any kind between them. A shared medical condition can empathetically bond people who are similarly afflicted, but this particular disease is one that also keeps them apart.
Five Feet Apart gives you an idea of the day-to-day reality of a terminally ill teenager, one measured by the daily ingestion of multiple medications and bounded by a social circle that rarely goes beyond a hospital floor. It's the expected life for a geriatric, not for someone barely on the cusp of adulthood. Thankfully, Stella and Will's euphoric rush of attraction provides some temporary relief. Who would have thought the sight of them walking down a hallway, each holding the end of a pool cue marking a five-foot distance between them, could be so sweetly romantic? But the melodramatic conventions of Mikki Daughtry and Tobias Iaconis' original screenplay cut this happiness short in a sequence of absurd events that include an icy plunge in a frozen pond, leading to a forbidden meeting of lips in the form of mouth-to-mouth resuscitation. And it only gets cornier (and less believable) from there. Perhaps the fault lies not in our stars, but in our shameless need for a sappy ending.
A note to readers: Bold and uncensored, The Austin Chronicle has been Austin's independent news source for over 40 years, expressing the community's political and environmental concerns and supporting its active cultural scene. Now more than ever, we need your support to continue supplying Austin with independent, free press. If real news is important to you, please consider making a donation of $5, $10 or whatever you can afford, to help keep our journalism on stands.
READ MORE
More Haley Lu Richardson Films
Death in the modern West underlies this poignant family drama
Matthew Monagle, May 27, 2022
The fascinating true story of Louise Brooks falls out of focus in this anachronistic fiction
Marjorie Baumgarten, April 12, 2019
More by Steve Davis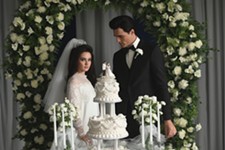 Measured journey behind closed doors of rock & roll's most famous marriage
Nov. 3, 2023
Ryan and Duchovny ponder the road not taken in magical rom-com
Nov. 3, 2023
KEYWORDS FOR THIS FILM
Five Feet Apart, Justin Baldoni, Haley Lu Richardson, Cole Sprouse, Moises Arias, Parminder Nagra, Kimberly Hebert Gregory
MORE IN THE ARCHIVES