At Eternity's Gate
2018, R, 111 min. Directed by Julian Schnabel. Starring Willem Dafoe, Rupert Friend, Oscar Isaac, Mads Mikkelsen, Emmanuelle Seigner, Niels Arestrup, Mathieu Amalric, Amira Casar.
The world was not crying out for another movie about the artist Vincent van Gogh when Julian Schnabel, the artist and filmmaker, chose to make this film. Ignored in his lifetime (van Gogh died in 1890 at the age of 37) and generally ridiculed on the rare occasions his work was indeed noticed, van Gogh achieved only after death the kind of fame and popularity that most artists crave. His name has come to represent the epitome of the mad-artist stereotype, one who sacrifices his well-being for his art, who cuts off his ear in a vain bid for understanding. Most of the existing movies about the painter build on the mad-genius cliche. Schnabel cares little about the source of van Gogh's genius, however; instead, his focus is on the creative impulse, the urge to find the transcendent qualities of the everyday world. At Eternity's Gate gifts us with the chance to see the world through the artist's eyes.
In order to accomplish this artist's vision, Schnabel and his very game cinematographer Benoît Delhomme shot a great deal of the movie from van Gogh's point of view – using a handheld camera to replicate his vision, with edges of the image sometimes blurred, angles tilted, filters (especially yellow) in place, and sun flares invading the shots. Stretches unfold in which the camera follows van Gogh's feet trudging through fields searching for the right light, his straw hat creating a semblance of a golden orb around his head.
Schnabel's film output (which is beginning to take on greater significance than his fine art career) has shown a steady interest in portraying the work of the artist, especially when produced in difficult circumstances (The Diving Bell and the Butterfly, Before Night Falls, Basquiat). Also, the dramatic but plinky piano accompaniment by Tatiana Lisovkaia emphasizes the solitary chords obeyed by the artist's inner voice. Events onscreen don't always follow historical facts as they are known. Glaringly, it is generally assumed that van Gogh died of a self-inflicted gunshot wound, not as a result of being shot by others as portrayed here. Yet, the film allows for van Gogh's self-confessions to blacking out and suffering altered visions. There are many theories of the causes of van Gogh's distorted perceptions, and while Schnabel shows us many possibilities, he resists siding with any particular viewpoint. The first-person vision, rather than the source, is what preoccupies this filmmaker.
Not enough can be said about Willem Dafoe's amazing performance as van Gogh. It is some of the best work of his career. Despite being approximately 25 years older than van Gogh was at his death, the actor's craggy face looks much like the artist's does in his self-portraits. Dafoe's ability to switch on a dime between expressions of joy and pain, spiritual transcendence and physical suffering, are put to great use here, creating a character both venerable and pitiable. The Vincent van Gogh we experience in this film remains as anomalous as a sunflower glowing on a starry night.
A note to readers: Bold and uncensored, The Austin Chronicle has been Austin's independent news source for over 36 years, expressing the community's political and environmental concerns and supporting its active cultural scene. Now more than ever, we need your support to continue supplying Austin with independent, free press. If real news is important to you, please consider making a donation of $5, $10 or whatever you can afford, to help keep our journalism on stands.
READ MORE
More Julian Schnabel Films
Directed by Julian Schnabel, this film tells the story of an orphaned Palestinian girl who is caught between emotions on the eve of the Intifada.
Marjorie Baumgarten, April 15, 2011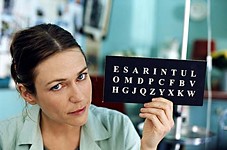 Julian Schnabel's unorthodox but true story about a protagonist who is stripped of all self-movement and expression is equal parts reverie, despair, and social experiment.
Josh Rosenblatt, Jan. 11, 2008
More by Marjorie Baumgarten
Penélope Cruz and Javier Bardem charm in this slight tale of lost loves and kidnapping
Feb. 22, 2019
Art history drama set across and after the Third Reich has few lessons to teach
Feb. 22, 2019
KEYWORDS FOR THIS FILM
At Eternity's Gate, Julian Schnabel, Willem Dafoe, Rupert Friend, Oscar Isaac, Mads Mikkelsen, Emmanuelle Seigner, Niels Arestrup, Mathieu Amalric, Amira Casar
MORE IN THE ARCHIVES