Boy Erased
2018, R, 114 min. Directed by Joel Edgerton. Starring Lucas Hedges, Nicole Kidman, Joel Edgerton, Russell Crowe, Flea, Xavier Dolan, Troye Sivan, Britton Sear, Joe Alwyn, Jesse LaTourette.
Our culture wars have spawned any number of slyly subversive takes on contemporary social issues, often in the form or horror films. The Purge movies and Get Out are two excellent examples of this and although there's no bogeymen or ghosts – except maybe for the Holy Ghost, I suppose – make no mistake: Boy Erased is a horror film. Based on the memoir by Garrard Conley, it follows the travails of 18-year-old Jared (the phenomenal Hedges), the son of a preacher man (Crowe) and a doting mother (Kidman) whose necessarily closeted fondness for the male gaze lands him in a gay conversion organization that has the feel of an evangelical doomsday cult and an altogether unnerving atmosphere of dread. It's not just that head man Victor Sykes (Edgerton) is an authoritarian sadist bound and determined to beat the devil out of his charges; nor is it his stern enforcer-cum-wackjob Brandon (a weathered-looking Flea from the Red Hot Chili Peppers). The horror stems from the obvious fact that these young men and lone girl Sarah (LaTourette in a brief but marvelous performance) are completely normal by any standard other than that imposed on them by organized religion and their concerned, often hateful, families.
Gay conversion therapy is all about the destruction of the self, a mental, philosophical, and allegedly spiritual re-education camp that would do Pol Pot proud in terms of its sheer repetitive insistence on denial of a person's reality. Australian director and actor Edgerton, frequently working alongside his brother Nash, has been drawn to the dark side of humanity as far back as their 2008 Sundance short "Spider" (check it out on Vimeo), that same year's claustrophobic The Square, and the brilliant Ozploitation classic Animal Kingdom. Together, the Edgerton siblings have earned a reputation as something akin to an Aussie version of the Coen Brothers. It's a fair enough comparison as far as it goes, but with the earnest and ambitious non-genre Boy Erased Joel Edgerton – his brother executive produced – shows a maturity in dealing with a hot-button, of-the-moment theme that should resonate with all audience members no matter how they sexually identify. Fellow Aussie Kidman gives a heartbreaking performance, one of her best by far, and Hedges is just flat-out superb in his role as, frankly, the sanest character in the film.
Edgerton constructs his film around some very familiar tropes and beats more often associated with the horror genre, right down to Danny Bensi and Saunder Jurriaans' uneasy-listening score and cinematographer Eduard Grau's anxiously oppressive camerawork. The creeping sense of menace created by Edgerton and his cast escalates deliberately, bit by bit, until it's all you can do not to white-knuckle your armrest. Yes, Boy Erased is a horror movie, but it bears pointing out that the emotion is by definition intertwined with both empathy and a certain sense of compassion. Terror elicits a shriek. Horror hits you in the heart, and the next thing you know you're sobbing. Bring some tissues.
A note to readers: Bold and uncensored, The Austin Chronicle has been Austin's independent news source for almost 40 years, expressing the community's political and environmental concerns and supporting its active cultural scene. Now more than ever, we need your support to continue supplying Austin with independent, free press. If real news is important to you, please consider making a donation of $5, $10 or whatever you can afford, to help keep our journalism on stands.
READ MORE
More Joel Edgerton Films
Joel Edgerton moves to the director's chair for this white-knuckle suspenser
Marc Savlov, Aug. 7, 2015
Oct. 27, 2020
More by Marc Savlov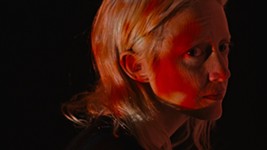 Identity melts in this psychotropic assassination brainblender
Oct. 2, 2020
Mangled Italian creature feature should be even shorter
Sept. 25, 2020
KEYWORDS FOR THIS FILM
Boy Erased, Joel Edgerton, Lucas Hedges, Nicole Kidman, Joel Edgerton, Russell Crowe, Flea, Xavier Dolan, Troye Sivan, Britton Sear, Joe Alwyn, Jesse LaTourette
MORE IN THE ARCHIVES