Eighth Grade
2018, R, 94 min. Directed by Bo Burnham. Starring Elsie Fisher, Josh Hamilton, Emily Robinson, Jake Ryan, Daniel Zolghadri, Catherine Oliviere, Luke Prael, Fred Hechinger.
Middle school is the ring of hell Dante overlooked when deconstructing his Inferno, an unsentimental education that few of us remember fondly and most of us would rather forget. In the painfully astute dramedy Eighth Grade, 13-year-old Kayla Day (Fisher) is a child of the iGeneration, weaned on social media. She posts YouTube tutorials advising a handful of faceless subscribers how to navigate the choppy waters of adolescence, addressing self-help topics such as "Be Yourself" and "How to Be Confident." But those videos deceptively project an image of an emotionally assured teenager that's in heartbreaking contrast to the anguished Kayla in real life, down to a smoothed-out complexion made possible by carefully applied makeup and a laptop's low streaming resolution. Painfully insecure, she struggles each day to emerge from her miserable cocoon to become someone (anyone!) other than the unexceptional person she sees every morning in a bathroom mirror, surrounded by dozens of Post-it notes with motivational messages scribbled to herself ("Learn a new joke every day").
It's a life illuminated day and night by the screen of an electronic device, whether surfing the web for a new fingernail polish to wear to a dreaded pool party, or compulsively scrolling the Instagram accounts of the cool kids she masochistically attempts to befriend despite her complete invisibility to them. Witnessing Kayla's agonizing attempts to somehow fit into the insular social strata of the American teenager, it's hard to imagine there are any perks in being this wallflower. You don't know whether to reach out and hug her or shake her or both, a confusion undoubtedly informed by an ingrained familiarity with her pitiable situation. After all, we were all an eighth-grader once.
First-time feature filmmaker Burnham (best known for his supporting role as a stand-up comic in The Big Sick) does a remarkable job of chronicling the rare highs and frequent lows of Kayla's last week in middle school with a cinema verité naturalism, allowing you to eavesdrop on her world with a sense of immediacy. He infuses the day-to-day middle school scenes with a casual authenticity, including the obligatory sex education film in a coed health class and the school-shooter drills that are sadly now also de rigueur. He also nails the rituals of the age with equal assuredness, such as the aforementioned pool party that triggers a momentary anxiety attack right before Kayla appears in her bathing suit and briefly meets a geek named Gabe (Ryan), as well as a Friday night at the mall that ends up with her in the back seat of a parked car with a shirtless older male student hoping to prey upon her vulnerability. And, most realistically of all, there are the excruciating interactions between Kayla and her well-intentioned single-parent dad (Hamilton). Their one-way dinnertime conversations consist of his earnest questions about school followed by one-word grunted responses delivered with the surliness of someone who can't be bothered. Rest assured: Most of this will all come back to you, in full cringeworthy fashion.
Burnham's sociological precision as a screenwriter and director, however, would likely not feel as genuine if not for Fisher in the pivotal role of Kayla. She doesn't act the part as much as she breathes it. It may be the most honest performance you'll see in a movie this year. When Kayla finally starts to feel more comfortable in her own skin, things become more conventionally movie-ish, but it's still a relief to see the light in Fisher's eyes and a smile resembling happiness on her face after all you've seen her character endure. (Not to mention the joy of watching her lunch date with Ryan's bundle of pubescent neuroses; although onscreen for only a few minutes, the young actor proves himself to be a fireworks of natural comic talent.) At last, the butterfly is emerging from the cocoon to spread her wings, a flutter at a time. Although high school is surely no cake walk, the promise of things getting easier, the promise of things getting brighter are more than just hopeful possibilities for Kayla as she graduates from Eighth Grade. Maybe it didn't happen exactly this way for all of us, but who doesn't wish that it had?
A note to readers: Bold and uncensored, The Austin Chronicle has been Austin's independent news source for over 40 years, expressing the community's political and environmental concerns and supporting its active cultural scene. Now more than ever, we need your support to continue supplying Austin with independent, free press. If real news is important to you, please consider making a donation of $5, $10 or whatever you can afford, to help keep our journalism on stands.
READ MORE
More Eighth Grade
Bo Burnham's free screenings will highlight ridiculous rating
Richard Whittaker, Aug. 7, 2018
More by Steve Davis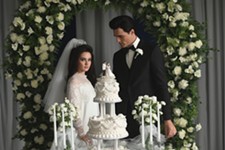 Measured journey behind closed doors of rock & roll's most famous marriage
Nov. 3, 2023
Ryan and Duchovny ponder the road not taken in magical rom-com
Nov. 3, 2023
KEYWORDS FOR THIS FILM
Eighth Grade, Bo Burnham, Elsie Fisher, Josh Hamilton, Emily Robinson, Jake Ryan, Daniel Zolghadri, Catherine Oliviere, Luke Prael, Fred Hechinger
MORE IN THE ARCHIVES