The Quest of Alain Ducasse
2018, NR, 84 min. Directed by Gilles de Maistre. Narrated by Gilles de Maistre.
If you're in Paris, and you need to cater a meal for 150 diplomats, you call Alain Ducasse. A chef with more Michelin stars to his name than he has fingers and toes, Ducasse is the antithesis of the modern celebrity chef. Somehow, documentarian de Maistre (a César winner for his 2007 parenting documentary Le Premier Cri) managed to lure him in front of the camera for a rare, if somewhat superficial, glimpse into his world.
The first real insight is summed up with one quote from the perspicacious Ducasse: "Our job is a sum of details." It may seem off that de Maistre only sees Ducasse cooking once, but his task is not to push garlic around a pan. It is to understand every minutia of the whole dining experience, and to nudge each server, each chef, each chair, each restaurant to reach his extraordinary standards. There's none of the stereotypical modern kitchen dictator, but a pleasant, driven sexagenarian who has never tired of what he does. The tone – relentlessly and slavishly hagiographic – is set in a literally breathless introduction narrated by de Maistre, as if making a film is almost a side effect of his own quest to spend two years with the great chef.
Make no mistake, de Maistre does show Ducasse as a gastronomic genius, but it takes a lot more than being handy with a knife to convince the French government to let you run a high-end restaurant at the Palace of Versailles, one of the true crown jewels of European architecture. That's the narrative drive, the final two years of development before the opening of Ore. Prior to Ducasse, no one had been allowed to open a restaurant in the palace itself, a place pivotal to the French national identity. Meanwhile, as construction continues in France, de Maistre follows him around the world, doing what he loves best and does best – trying new foods, appreciating new chefs, relishing the taste of Kyoto and Manila and Shanghai and London and Monaco and the Gobi Desert and, of course, Paris.
Like the equally breezy Itzhak, or the similarly loving RBG, The Quest of Alain Ducasse has a subject truly worthy of a praising profile. But while de Maistre's portrait is detailed, it seems stylistically a little dated (that obsessive, intrusive narration does it no favors). It's like being served a very well-made boeuf bourguignon: perfectly tasty, but it seems surprising that the ingredients weren't reshaped into something more contemporary. Rather than probing the man, de Maistre is caught up in Ducasse's wake. That is understandable – he has been a pioneer of tastes and of sustainability for decades, so it's hard not to be a little in awe. Yet Ducasse always keeps him at arm's length, and he seems a little too comfortable there. Even Ore becomes an afterthought, as Ducasse trots the globe in search of the perfect chickpea, or to experience caviar before it is salted. Ultimately, no matter how fascinating the subject, there are only so many shots of rich people relishing amuse-bouche, especially when it never feels like the main course arrives.
A note to readers: Bold and uncensored, The Austin Chronicle has been Austin's independent news source for over 36 years, expressing the community's political and environmental concerns and supporting its active cultural scene. Now more than ever, we need your support to continue supplying Austin with independent, free press. If real news is important to you, please consider making a donation of $5, $10 or whatever you can afford, to help keep our journalism on stands.
READ MORE
More Films
Staggering mountaineering achievement mixes vertigo with wonder
Steve Davis, Oct. 12, 2018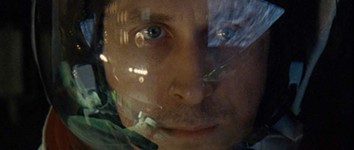 Gosling and Chazelle's moon man biopic soars
Richard Whittaker, Oct. 12, 2018
More by Richard Whittaker
Mondo Gallery celebrates a decade of heroes
Oct. 12, 2018
Emmys, gen:LOCK cast, plus a good omen for film incentives
Oct. 12, 2018
KEYWORDS FOR THIS FILM
The Quest of Alain Ducasse, Gilles de Maistre
MORE IN THE ARCHIVES