Rampage
2018, PG-13, 107 min. Directed by Brad Peyton. Starring Dwayne Johnson, Naomie Harris, Jason Liles, Malin Akerman, Jeffrey Dean Morgan, Jake Lacy, Joe Manganiello, Marley Shelton, P.J. Byrne, Demetrius Grosse, Jack Quaid, Breanne Hill, Matt Gerald, Will Yun Lee, Urijah Faber, Bruce Blackshear.
Showtimes
A note to readers: Bold and uncensored, The Austin Chronicle has been Austin's independent news source for over 36 years, expressing the community's political and environmental concerns and supporting its active cultural scene. Now more than ever, we need your support to continue supplying Austin with independent, free press. If real news is important to you, please consider making a donation of $5, $10 or whatever you can afford, to help keep our journalism on stands.
READ MORE
More Brad Peyton Films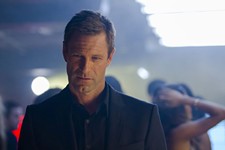 Demon possession thriller
Marc Savlov, Dec. 9, 2016
This is how the world ends, not with a bang, but with a guffaw
Marc Savlov, May 29, 2015
More by Richard Whittaker
Earth's mightiest heroes face their greatest, most nuanced threat.
April 27, 2018
Plus more local production updates
April 27, 2018
KEYWORDS FOR THIS FILM
Rampage, Brad Peyton, Dwayne Johnson, Naomie Harris, Jason Liles, Malin Akerman, Jeffrey Dean Morgan, Jake Lacy, Joe Manganiello, Marley Shelton, P.J. Byrne, Demetrius Grosse, Jack Quaid, Breanne Hill, Matt Gerald, Will Yun Lee, Urijah Faber, Bruce Blackshear
MORE IN THE ARCHIVES