Kingsman: The Golden Circle
2017, R, 141 min. Directed by Matthew Vaughn. Starring Taron Egerton, Colin Firth, Mark Strong, Julianne Moore, Pedro Pascal, Elton John, Halle Berry, Channing Tatum, Jeff Bridges, Emily Watson, Poppy Delevingne, Michael Gambon.
Nothing succeeds like excess, or so Mr. Wilde would say. Like its predecessor, everything about the stylized Kingsman: The Golden Circle teeters just a little over the top: the elegant international production values, the perfectly tailored Savile Row attire, the hyperviolent action sequences, the depiction of something more than just an innocent hint of sex. (Whoa! Did I just witness a fantastic voyage through a woman's vaginal canal?) Based on the comic book series conceived by Mark Millar and David Gibbons, this two-hours-plus sequel to the bloody-fun 2015 action comedy about a British intelligence agency answerable to no one entertains with no discernible point of view, except to shake up the shaken-not-stirred cinematic legacy of the suave secret agent. It's a slightly darker side of James Bond, a tale of 007 squared that's gleefully eager to shock and awe.
In this follow-up, young recruit Eggsy (enthusiastically reprised by Egerton, a pumped-up and foul-mouthed version of Mickey Rooney) has risen in the ranks of the Kingsman organization after his mentor, Harry Hart (Firth), was shot dead through the eye in the first film. But like Lazarus, Harry conveniently lives another day to assist his former protégé in foiling the fiendish plot of a smiley-faced villainess (Moore, in perhaps her most embarrassing performance to date) who's intent on exposing society's ubiquitous recreational drug use by contaminating the world's supply of illicit substances with a deadly toxin. Thank God tantrum-throwing diva Sir Elton John, looking like the gap-toothed offspring of a rainbow-colored giant turkey (the ol' girl is no chicken), is on hand to mug shamelessly and help the super-spy heroes save the day. His mirrored bathing cap alone is worth the price of admission. What hath camp wrought?
Some of the actors make the best of the situation (Firth, Strong, Pascal), while others (Berry, Tatum, Bridges, Watson) are merely window-dressing introduced for the purpose of the inevitable second sequel. As for the bit players, they're expendable in spectacular fashion, cut down in slam-bam showdowns taking place in a dusty Kentucky barroom, outside a mountain cabin in the Swiss woods, and in a Fifties-themed hideout in the Cambodian jungle that looks like a sound stage from Happy Days. Nothing in The Golden Circle, however, matches that mind-fuck sequence in the original film in which a crazed Firth massacres the entire congregation of a hillbilly church. That was a nightmare in broad daylight you can't unsee, the defining moment of a franchise likely to succeed as long as there's blood to spill.
A note to readers: Bold and uncensored, The Austin Chronicle has been Austin's independent news source for over 40 years, expressing the community's political and environmental concerns and supporting its active cultural scene. Now more than ever, we need your support to continue supplying Austin with independent, free press. If real news is important to you, please consider making a donation of $5, $10 or whatever you can afford, to help keep our journalism on stands.
READ MORE
More Matthew Vaughn Films
Spy comedy threequel is a king-sized disaster
Richard Whittaker, Dec. 24, 2021
This comic-book riff on James Bond films finds fun amid the ultraviolence.
Marjorie Baumgarten, Feb. 13, 2015
More by Steve Davis
Miyazaki's gorgeous but oddly obtuse return to animation
Dec. 8, 2023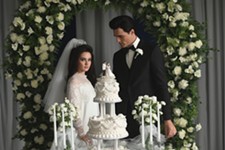 Measured journey behind closed doors of rock & roll's most famous marriage
Nov. 3, 2023
KEYWORDS FOR THIS FILM
Kingsman: The Golden Circle, Matthew Vaughn, Taron Egerton, Colin Firth, Mark Strong, Julianne Moore, Pedro Pascal, Elton John, Halle Berry, Channing Tatum, Jeff Bridges, Emily Watson, Poppy Delevingne, Michael Gambon
MORE IN THE ARCHIVES