The LEGO Batman Movie
2017, PG, 104 min. Directed by Chris McKay. Voices by Will Arnett, Michael Cera, Rosario Dawson, Ralph Fiennes, Zach Galifianakis, Jenny Slate, Hector Elizondo, Channing Tatum, Mariah Carey.
Everything is Batman in this boisterously entertaining cousin of the awesome The LEGO Movie, which snuck under the radar three years ago to become a cultural phenomenon. Channeling D.C. Comics, Christopher Nolan, and campy Sixties television, The LEGO Batman Movie elevates Emmet Brickowski's sidekick in the original film to leading masked man in this fun-for-all follow-up that deconstructs the action hero's brooding vigilante persona, brick-by-brick. It's as if the Dark Knight somehow mated with the Caped Crusader, spawning a gravel-voiced bro-child (Arnett, brilliantly channeling Christian Bale) with relationship issues of every kind. (To quote the Man in Black, "Batman doesn't do 'ships.") The movie also serves as an origin story introducing youthful ward Dick Grayson and spunky police commissioner Barbara Gordon (aka Robin and Batgirl, respectively) to flesh out the cadre of Gotham City crime fighters our loner hero eventually learns to rely upon in the name of teamwork. Even droll Alfred the butler gets in on the act to save the city, when he's not providing a winking running narrative on Batman cinematic mythology. (Observing his boss moping around once again, he notes: "Sir, I have seen you go through similar phases in 2016 and 2012 and 2008 and 2005 and 1997 and 1995 and 1992 and 1989 and that weird one in 1966.") From the hilarious commentary on studio logos and ominous soundtracks as the movie begins, to the feel-good sing-along before the end credits roll, it's a rat-a-tat-tat animated comedy that rarely lets up, clever and silly and funny, and yes, a bit batty.
Where the 2014 feature film by Phil Lord and Christopher Miller sneakily posed the individuality-vs.-conformity dilemma often faced by a Lego Master Builder ("To follow the instructions or not to follow the instructions: That is the question."), the titular interlocking plastic toy is only indirectly self-referenced here in an ab-crunching finale about the interconnectivity of us all. It's a brief shout-out, but one sufficient to invoke the spirit of the building blocks upon which the film is assembled, though the original still reigns supreme in that respect. The LEGO Batman Movie looks a tad slick, appearing to abandon the mix of painstaking stop-motion and CG animation (plus actual Lego sets) that gave its predecessor a perfectly scruffy three-dimensional appearance, even without 3-D glasses. This visual flatness is distracting, but not enough to dampen the loony energy of a film that includes everyone from the Joker to Godzilla to Superman to Bane to the Eye of Sauron (and more!) in its good vs. evil, all-star cast. The future sure looks bright for the LEGO movie franchise. As the Boy Wonder might say: "Holy Sequels, Batman! What next?"
A note to readers: Bold and uncensored, The Austin Chronicle has been Austin's independent news source for over 40 years, expressing the community's political and environmental concerns and supporting its active cultural scene. Now more than ever, we need your support to continue supplying Austin with independent, free press. If real news is important to you, please consider making a donation of $5, $10 or whatever you can afford, to help keep our journalism on stands.
READ MORE
More Chris McKay Films
Dracula's sidekick finally gets his day in the sun
Alejandra Martinez, April 14, 2023
More by Steve Davis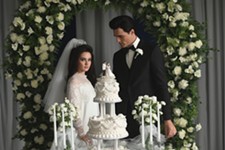 Measured journey behind closed doors of rock & roll's most famous marriage
Nov. 3, 2023
Ryan and Duchovny ponder the road not taken in magical rom-com
Nov. 3, 2023
KEYWORDS FOR THIS FILM
The LEGO Batman Movie, Chris McKay
MORE IN THE ARCHIVES