The People vs. Fritz Bauer
2016, R, 105 min. Directed by Lars Kraume. Starring Burghart Klaussner, Andrej Kaminsky, Ronald Zehrfeld, Lilith Stangenberg, Jörg Schüttauf, Sebastian Blomberg, Michael Schenk, Rüdiger Klink, Laura Tonke, Götz Schubert, Cornelia Gröschel.
The sins of one generation threaten to undo the future of the next in this absorbing period piece about a real-life district attorney of a central German state, Fritz Bauer (masterfully played with a weary resignation by Klaussner), who was instrumental in bringing fugitive Nazi and Holocaust orchestrator Adolf Eichmann (dead ringer Schenk) to the attention of the Israelis in 1957. Contrary to Hannah Arendt's famous phrase, "the banality of evil," used to describe the seeming workaday blandness of the Obersturmbannführer while on trial in Jerusalem, The People vs. Fritz Bauer crackles with tension. Not from Eichmann, admittedly, who as the film begins is living the low life in Nazi-friendly Argentina, but from the German bureaucracy's self-imposed roadblocks to reconciling the past. The postwar leadership is riddled with high-level postings sympathetic to the cause of National Socialism and the Final Solution, and Bauer, aging, ailing, and as it turns out, not only a Jew but also the keeper of other personal and dangerous secrets. Paranoia and despair nearly thwart his efforts – whom can he truly trust? – but he perseveres, even when confronted by the fact that his bold, inherently humanistic plan to bring Eichmann back to trial – not in Israel but in Germany – seems doomed to failure.
This film is as much about the primal importance of a culturally contaminated generation taking a good, long look at itself in the mirror (and then, hopefully, shattering the glass) and thereby salving both the psychic and societal scars of then-recent history, as it is about hunting down runaway tyrants. The Boys From Brazil this most assuredly is not; director and co-writer (with Olivier Guez) Lars Kraume spins multiple moral conundrums throughout, ultimately bringing things to a boiling head in the second half of the movie by placing not only Bauer's career and, indeed, his very life in jeopardy, but also the cultural self-image of the German state itself.
Dramatic without ever actually crossing into outright thriller territory, Klaussner's excellent performance is aided by wonderfully meticulous production design and Jens Harant's chilly cinematography. It's a history lesson that nearly ended up a history lesion but for the dogged pursuit of justice by a lone man battering himself up against the awful echoes of evil incarnate.
A note to readers: Bold and uncensored, The Austin Chronicle has been Austin's independent news source for almost 40 years, expressing the community's political and environmental concerns and supporting its active cultural scene. Now more than ever, we need your support to continue supplying Austin with independent, free press. If real news is important to you, please consider making a donation of $5, $10 or whatever you can afford, to help keep our journalism on stands.
READ MORE
More Burghart Klaussner Films
A disquieting feeling of apprehension is made palpable in Michael Haneke's import, The White Ribbon.
Marjorie Baumgarten, Feb. 19, 2010
Sticking it to the man, German-style, is the subject of this smart, kicky little gem.
Marc Savlov, Aug. 19, 2005
More by Marc Savlov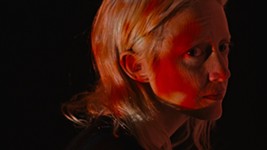 Identity melts in this psychotropic assassination brainblender
Oct. 2, 2020
Mangled Italian creature feature should be even shorter
Sept. 25, 2020
KEYWORDS FOR THIS FILM
The People vs. Fritz Bauer, Lars Kraume, Burghart Klaussner, Andrej Kaminsky, Ronald Zehrfeld, Lilith Stangenberg, Jörg Schüttauf, Sebastian Blomberg, Michael Schenk, Rüdiger Klink, Laura Tonke, Götz Schubert, Cornelia Gröschel
MORE IN THE ARCHIVES