Richard Linklater: dream is destiny
2016, NR, 86 min. Directed by Louis Black, Karen Bernstein.
It's been a quarter-century since Austin-based filmmaker Richard Linklater released Slacker, a sublime and crafty-cool, ultra-low-budget masterpiece that's probably inspired more young filmmakers to take up their own cameras than any other late-20th century film I can think of. Slacker famously meandered around the then-relatively sleepy college town, following the director's own dreamy, internal logic and set the tone-poem template for so much of this genuine American auteur to come. Richard Linklater: dream is destiny, co-directed by Austin Chronicle/SXSW co-founder Louis Black and Emmy and Grammy Award-winning documentarian Karen Bernstein, presents a nuanced, thoughtful portrait of the artist as a youngish man (at 56, he retains the philosophically questing mind of a writer-director half his age) who long ago chose to work outside the system and instead has graced American cinema with a body of work that almost never fails to challenge, explore, and examine in minute detail the interstitial moments of human relationships that his Hollywood compatriots forsake in favor of big budgets and bloated storylines.
Linklater's post-Slacker movies don't just play out between the lines, they wander off to explore the margins and then dig deep into the very molecules of the page. One need only watch the romantic trilogy that began with 1995's Before Sunrise and concluded with 2013's Before Midnight to recognize his skill at penning characters who overflow with powerful, often messy, but always intensely human emotions. (And that certainly includes the two wildly varying Jack Black vehicles School of Rock and Bernie.)
To help unlock the mystery of their low-key, laid-back subject, Black and Bernstein have assembled a group of actors (Matthew McConaughey, Ethan Hawke), producers (Tommy Pallotta), editor Sandra Adair, and others to provide reminiscences and background, but as Jack Black points out, there's no real mystery to Linklater's indie spell: "It's just hard work." Added to that is a tremendous amount of onscreen input from Linklater himself; he's seen showing Louis Black, who had a cameo in Slacker, a collection of old notebooks chronicling his early thoughts, ideas, and deep, daily observations on his pre-Slacker life. Linklater always dreamed of being either a writer or, early on, a major-league baseball player (hence the grueling work ethic behind so many of his successes), and that passion for the power of words, of words to create dialogues, and of dialogues to create whole cinematic worlds, is his defining characteristic.
After all, isn't the very act of putting pen to paper just a more mundane way of capturing the dreams in your head before making them come to life on the big screen? The subtitle of Richard Linklater: dream is destiny is drawn from a line of dialogue found in his equally groundbreaking and hypnagogic animated art film Waking Life, and it serves as a mission statement of sorts for his entire oeuvre and endlessly curious philosophy. Major League Baseball's loss has turned out to be the entire world of cinema's gain.
A note to readers: Bold and uncensored, The Austin Chronicle has been Austin's independent news source for almost 40 years, expressing the community's political and environmental concerns and supporting its active cultural scene. Now more than ever, we need your support to continue supplying Austin with independent, free press. If real news is important to you, please consider making a donation of $5, $10 or whatever you can afford, to help keep our journalism on stands.
READ MORE
More Richard Linklater: dream is destiny
dream is destiny airs on American Masters
Sean L. Malin, Sept. 1, 2017
linklater doc premieres at sundance
Sean L. Malin, Feb. 5, 2016
More Louis Black
In a round-robin interview, Richard Linklater, Ethan Hawke, and Louis Black open up about their new films
March 11, 2016
More Louis Black
A look back at Louis Black's long-running column now at the end of its run
Kimberley Jones, Sept. 7, 2017
Co-founder and co-owner departs after 36 years at helm
Chase Hoffberger, Aug. 8, 2017
More Films
Charming animated adventure has a kid-friendly look at loss, with adorable space sidekicks!
Richard Whittaker, Oct. 16, 2020
Eric Roberts saves souls, unlikely as that sounds
Oct. 16, 2020
More by Marc Savlov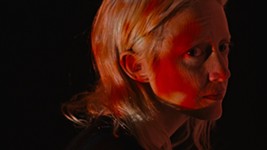 Identity melts in this psychotropic assassination brainblender
Oct. 2, 2020
Mangled Italian creature feature should be even shorter
Sept. 25, 2020
KEYWORDS FOR THIS FILM
Richard Linklater: dream is destiny, Louis Black, Karen Bernstein
MORE IN THE ARCHIVES