Nine Lives
2016, PG, 87 min. Directed by Barry Sonnenfeld. Starring Kevin Spacey, Jennifer Garner, Christopher Walken, Robbie Amell, Cheryl Hines, Mark Consuelos, Malina Weissman, Talitha Bateman.
This cat-astrophe about a megalomaniacal New York City real estate developer and businessman (dingdingding!) who finds himself trapped inside the body of a fussy feline called "Mister Fuzzypants" is, paws down, the year's worst film, and we still have over four months to go. Let's not pussyfoot around. Here's a countdown of the reasons why:
Nine lives: As the transposed tycoon Tom (yes, that's his name) Brand, two-time Oscar winner Kevin Spacey spends most of the time lying comatose in a hospital bed. When not on life support, he provides the petulant voiceover for his character's four-legged alter ego. It's excruciatingly awful, like claws on a scratching post. Where's that other "Nine Lives" tomcat, Morris, when you need him? Eight lives: The freaky CGI version of the movie's kitty resembles Grumpy Cat on the verge of a hairball. Obviously, there was a limited visual-effects budget. Seven lives: You will laugh (maybe) twice during this movie. The first chuckle clocks in at approximately 30 minutes. Treasure it. It takes another half-hour or so for the second one. Six lives: The barely audible score by Evgueni and Sacha Galperine sounds as if it were lifted from a Seventies soft-core porn flick. No pussy jokes, please. Five lives: As the eccentric cat whisperer Felix "Purr"kins, Christopher Walken collects another paycheck. Four lives: Mark Consuelos' stiff performance may be attributable to the exceedingly tight fit of his suits. Or not. (Thankfully, the wife has a good day job.) Three lives: Einstein was right. Time is not an absolute. It actually stops on occasion during the film's 87-minute running length. Two lives: The dialogue is enough to make your hair stand on end. For example, when Mister Fuzzypants unsuccessfully tries to use a computer to reveal his human identity, he remarks, "Ironically, I could really use a mouse right now." One life: This is a movie for haters. It sets back the progress painstakingly achieved by the cat community through amusing YouTube videos and cute internet memes by at least 10 years. Not even that adorable dangling poster kitty can undo the damage inflicted here. All lives used up: Requiescat in puss.
A note to readers: Bold and uncensored, The Austin Chronicle has been Austin's independent news source for over 40 years, expressing the community's political and environmental concerns and supporting its active cultural scene. Now more than ever, we need your support to continue supplying Austin with independent, free press. If real news is important to you, please consider making a donation of $5, $10 or whatever you can afford, to help keep our journalism on stands.
READ MORE
More Barry Sonnenfeld Films
Josh Brolin's spooky good impersonation of the younger Tommy Lee Jones is the only fresh thing happening in this sequel.
Marc Savlov, May 25, 2012
Robin Williams loads his family into a camper and goes on vacation.
Marc Savlov, May 5, 2006
More by Steve Davis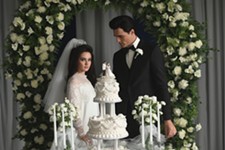 Measured journey behind closed doors of rock & roll's most famous marriage
Nov. 3, 2023
Ryan and Duchovny ponder the road not taken in magical rom-com
Nov. 3, 2023
KEYWORDS FOR THIS FILM
Nine Lives, Barry Sonnenfeld, Kevin Spacey, Jennifer Garner, Christopher Walken, Robbie Amell, Cheryl Hines, Mark Consuelos, Malina Weissman, Talitha Bateman
MORE IN THE ARCHIVES