Independence Day: Resurgence
2016, PG-13, 120 min. Directed by Roland Emmerich. Starring Liam Hemsworth, Jeff Goldblum, Bill Pullman, Maika Monroe, Jessie T. Usher, Sela Ward, Charlotte Gainsbourg, William Fichtner, Judd Hirsch, Brent Spiner, Angelababy, Deobia Oparei, Vivica A. Fox, Robert Loggia, Joey King, Travis Tope.
There's one key character missing from this bloated behemoth of a sequel to 1996's popcorn blockbuster ID4 and it isn't Will Smith. It's Randy Quaid. His crop-dusting, boozy, Vietnam vet-cum-alien abductee Russell Casse died a hero's death at the end of the original movie. The intervening years have witnessed a depressing, surreal morphing of the fictional paranoiac Casse with the all-too-real Mr. Quaid, who until last year was literally on the lam from the State of California (you can Google the whole sordid story if you like). Suffice it to say, Quaid's manic, frequently hilarious turn in ID4 helped leaven director Emmerich's overblown aliens vs. Earthlings disaster epic, and of course, a presumed-dead character returning hale and hearty for a sequel is hardly a shocker. Case in point: Resurgence resurrects ID4's Area 51 mad genius Dr. Brakish Okun (Spiner), who turns out to have been not DOA but merely comatose.
Independence Day: Resurgence is everything you were probably expecting and less. The aliens return, this time in a 3,000-mile wide mothership that has its own gravitational field, the better to drop Kuala Lumpur's Petronas Towers, Dubai's Burj Khalifa, Singapore's Esplanade, and pretty much every other global landmark. It's here, in these frequent sequences of epic destruction, that the film crackles with something approaching giddy, ghastly good cheer. (Nine VFX houses, headed by Digital Domain, handled the CGI chaos.)
But the movie's a rollicking bummer, and a messy one at that. Various plot lines involving everything from a Congolese warlord (Oparei) to Jessie Usher as the hotshot pilot son of Will Smith's original character (lamely, it's explained that although he survived the first invasion, USMC Captain Hiller perished while flight-testing some alien tech-enhanced hardware) converge and collide to little emotional affect. There's a nifty ESD (that'd be the Earth Space Defense) moonbase that's cribbed right out of Gerry Anderson's Space: 1999. (I kept thinking how subversively wild ID:R could have been had Emmerich and company employed Thunderbirds' "Supermarionation," but no such luck.)
On the plus side, Jeff Goldblum returns as Dr. David Levinson, Judd Hirsch is back as his crotchety pop, and even the late Robert Loggia reappears. Charlotte Gainsbourg is on hand as well, as a linguistics expert and love interest for Goldblum. I can only assume casting Serge Gainsbourg's daughter is some sort of trippy homage to fellow French icon François Truffaut's sci-guy in Close Encounters of the Third Kind." (Eh … probably not.)
Honestly, I could watch Goldblum and Gainsbourg – two of the most quirkily sublime multihypenate artists alive – reading phonebooks to each other and enjoy the experience thoroughly, but sadly even they seem wasted here. Ultimately, ID:R is what it is, planetary carnage on a mammoth scale, with some humans thrown in for good measure. It renders 1996's Independence Day slightly less of a guilty pleasure.
A note to readers: Bold and uncensored, The Austin Chronicle has been Austin's independent news source for over 40 years, expressing the community's political and environmental concerns and supporting its active cultural scene. Now more than ever, we need your support to continue supplying Austin with independent, free press. If real news is important to you, please consider making a donation of $5, $10 or whatever you can afford, to help keep our journalism on stands.
READ MORE
More Roland Emmerich Films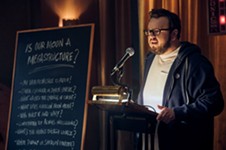 Disaster flick + Dyson sphere = Roland Emmerich's latest
Matthew Monagle, Feb. 11, 2022
Roland Emmerich goes all guns blazing recreating the pivotal sea battle
Marc Savlov, Nov. 8, 2019
More by Marc Savlov
The Prince is dead, long live the Prince
Aug. 7, 2022
Texas-made luchadores-meets-wire fu playful adventure
April 29, 2022
KEYWORDS FOR THIS FILM
Independence Day: Resurgence, Roland Emmerich, Liam Hemsworth, Jeff Goldblum, Bill Pullman, Maika Monroe, Jessie T. Usher, Sela Ward, Charlotte Gainsbourg, William Fichtner, Judd Hirsch, Brent Spiner, Angelababy, Deobia Oparei, Vivica A. Fox, Robert Loggia, Joey King, Travis Tope
MORE IN THE ARCHIVES