The Darkness
2016, PG-13, 92 min. Directed by Greg McLean. Starring Kevin Bacon, Radha Mitchell, David Mazouz, Lucy Fry, Paul Reiser, Ming-Na Wen, Ilza Rosario, Alma Martinez.
It starts only five minutes into The Darkness: the ominous chords of a foreboding soundtrack warning you to "Be afraid! Be very afraid!" as an autistic boy, vacationing with his family at the Grand Canyon, finds five mysteriously etched stones in an underground cavern. From there, Johnny Klimek's film score punctuates this misconceived horror film with such unnecessary regularity that you wonder whether the composer was paid by the note. Once back home with the talismans in tow, little Mikey (a seemingly somnambulistic Mazouz) begins to commune with an unseen Native American spirit-being oddly named Jenny, staring at his bedroom wall for hours and grinning like a dazed Cheshire kitten. All the while, faucets turn on by themselves, noises sound from the attic, and shadow figures creep along hallways as the youngster unwittingly begins to open a portal to the underworld, allowing the five Anasazi demons entrapped in the purloined rocks to materialize and precipitate the end of mankind. Their calling card is an oversized, sooty, smelly black handprint. It's like being haunted by outsized chimney sweeps that never bathe. And for the most part, it's about that scary.
To its credit, The Darkness attempts to humanize its terror by suggesting that the paranormal forces at work are somehow related to the fractures running through the unhappy Taylor family. But the mesh of familial drama (a once-unfaithful husband, an alcoholic wife, a bulimic daughter) and Southwest Indian folklore is an uneasy mix of genre narratives that only underscores the hokum of the film's premise. (Almost hilariously, the psychic phenomena in the Taylor home is explained through selected Google searches. God bless the Internet.) Bacon and Mitchell give convincing performances as the embattled husband and wife, but they really belong in another movie. In the end, the characters' marital discord drains the tension that's otherwise needed to generate scares in a film woefully lacking in true fright. (The only time you'll jolt in your seat is when the volume gets turned up.) When the near-campy good-vs.-evil showdown finally takes place in the film's painfully prolonged finale, you'll think you've stumbled upon the bastard progeny of The Exorcist and Poltergeist (Parts I and II). It's supremely silly stuff, relegating The Darkness to the shadows of horror film hell.
A note to readers: Bold and uncensored, The Austin Chronicle has been Austin's independent news source for over 40 years, expressing the community's political and environmental concerns and supporting its active cultural scene. Now more than ever, we need your support to continue supplying Austin with independent, free press. If real news is important to you, please consider making a donation of $5, $10 or whatever you can afford, to help keep our journalism on stands.
READ MORE
More The Darkness
Joey Seiler, July 27, 2007
More Greg McLean Films
A gory social experiment gone wrong
Marc Savlov, March 31, 2017
Wolf Creek is an accomplished Aussie version of The Texas Chainsaw Massacre; it's also a viscerally told slasher film that manages to do an awful lot with very little.
Marjorie Baumgarten, Dec. 30, 2005
More by Steve Davis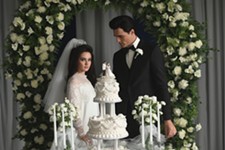 Measured journey behind closed doors of rock & roll's most famous marriage
Nov. 3, 2023
Ryan and Duchovny ponder the road not taken in magical rom-com
Nov. 3, 2023
KEYWORDS FOR THIS FILM
The Darkness, Greg McLean, Kevin Bacon, Radha Mitchell, David Mazouz, Lucy Fry, Paul Reiser, Ming-Na Wen, Ilza Rosario, Alma Martinez
MORE IN THE ARCHIVES