Belladonna of Sadness
1973/2016, NR, 93 min. Directed by Eiichi Yamamoto. Voices by Aiko Nagayama, Katsuyuki Itô, Tatsuya Nakadai, Masaya Takahashi, Shigako Shimegi.
I first came across Eiichi Yamamoto's Belladonna of Sadness in the mid-Eighties, in the form of a third-generation VHS dub my then-girlfriend got her hands on (she was way cooler than me). And even though it lacked subtitles, and the washed-out image on the screen coupled with the tracking lines felt like watching the film through broken glass, we were still blown away (and we were into some crazy shit).
But thanks to a 4K restoration that painstakingly drops in eight minutes of footage initially cut from the film, 1973's Belladonna of Sadness is finally getting a domestic release here in the States. An animated fable with an art style that evokes Japanese landscapes meshed with Western influences like Art Nouveau and Expressionism (think Klimt and Schiele), the film tells the story of Jean (Itô) and Jeanne (Nagayama), two lovers in a feudal village whose wedding opens the film. But then Jeanne is raped by the Lord (Takahashi) on her wedding night (jus primae noctis, and all that), a still-shocking sequence rendered even more so by the combination of both abstract and realistic animation styles. Attempting to put the past behind them, Jeanne is visited by the Devil (Nakadai) who takes the form of a small phallus. Promising her power and a hold on those who betrayed her (spoiler alert: Jean turns out to not be the greatest husband), she flees to the forest and becomes a witch, succumbing to the Devil, and eventually commanding respect and holding great sway over the village peasants, much to the annoyance of the Lord and his Mistress (Shimegi). A cursory knowledge of history and the main character's name should be enough clues as to where this narrative goes.
But for all its outré female sexuality/empowerment/critique of materialism tropes that may seem dated, it is how the narrative gets there – well, that is where the rubber meets the road. Visually, the film blends intricate, phantasmagoric, acid-trip animation with camera pans over gorgeous, watercolor-infused static paintings. Aurally, it gets even better with Masahiko Satô's amazing psych rock/free jazz score coupled with a number of original songs that propel the plot. And then there's the sex: orgies, numerous couplings with the Devil, a snail having congress with a clam, bunnies shooting out of anuses, penises erecting into literal giraffes. And that is just off the top of my head. I would caution those with a tendency to clutch their pearls at the sight of impropriety that, even by contemporary standards, there are some pretty transgressive episodes. But for those up for an adventure into the LSD-influenced world of counterculture animation, Belladonna of Sadness is a curious artifact that, after 43 years, remains a glorious mindfuck.
A note to readers: Bold and uncensored, The Austin Chronicle has been Austin's independent news source for almost 40 years, expressing the community's political and environmental concerns and supporting its active cultural scene. Now more than ever, we need your support to continue supplying Austin with independent, free press. If real news is important to you, please consider making a donation of $5, $10 or whatever you can afford, to help keep our journalism on stands.
READ MORE
More Films
Unerotic and unthrilling home invasion flick is seriously unsubtle
Richard Whittaker, Jan. 14, 2022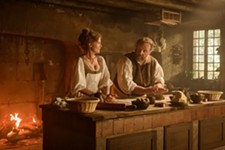 French historical cooking drama mixes class and cuisine
Trace Sauveur, Jan. 14, 2022
More by Josh Kupecki
Dystopian Brazilian sci-fi flick is Herbie meets Marx
Jan. 7, 2022
Joel Coen's stark and silvery take on the Bard's revenger
Dec. 24, 2021
KEYWORDS FOR THIS FILM
Belladonna of Sadness, Eiichi Yamamoto
MORE IN THE ARCHIVES