Everybody Wants Some!!
2016, PG-13, 116 min. Directed by Richard Linklater. Starring Blake Jenner, Zoey Deutch, Will Brittain, Ryan Guzman, Tyler Hoechlin, Glen Powell, J. Quinton Johnson, Wyatt Russell, Austin Amelio, Temple Baker, Tanner Kalina, Juston Street, Forrest Vickery.
Although it's been called a "spiritual sequel" to Austin auteur Richard Linklater's Seventies-set Dazed and Confused, this charmingly meandering look at the members of a collegiate baseball team as they count down to the start of the 1980 school year looks further forward than it does back. Featuring a key pair of extended sequences set first in a funky-is-as-funky-does disco club, and then, later in the film at a dingy, manic, punk rock gig (the latter seemingly set-designed into a grit-perfect mash-up of iconic Austin underground mainstays of the late Seventies/early Eighties: Raul's Club and Voltaire's Basement), Everybody Wants Some!! presages, in a very Linklater-ensemble-cast way, the dawn of the Reagan era and all that would follow, both politically and socially. (Hence, I suspect, the Van Halen-cribbed title.) While there's hardly a plot to speak of, that's never hobbled Linklater before and is indeed the director's keenest, cleverest trick: the ability to make something sweet, honest, and true out of the ephemeral marginalia of youth minus the rose-tinted bullshit.
Much of the film is viewed through the eyes of freshman pitcher Jake (Jenner), who arrives at his small Texas college and immediately provokes friendly scorn from his junior and senior teammates, chief among them team captain McReynolds (Hoechlin), sly-dog ladies' man Finnegan (Powell), and elder statesman and primo pothead Willoughby (Russell), dispenser of arcane, dope-addled genius. This being college, there's also a constant undercurrent of sexual electricity, mostly – and most realistically – running between Jake and Beverly (Deutch), a freshman theatre major he spies while the team is tooling around the girls' dorm parking lot, trying out pickup lines and such on their endless search for pussy (and, duh, beer). Jake remains the story's moral center throughout, a genuinely nice guy with a wicked fastball suddenly caught up in, you'll pardon the pun, a whole new world.
Breezily funny while being dead-on accurate about the time frame, the film moves at the beery-horny pace of the exact time and place. As always, Linklater's ability to recall cultural specifics, like stereo models and anything automotive is downright awesome. Who remembers the brand name Marantz? Egads, that's spectacular specificity!
I'd make a case that Everybody Wants Some!!, while having more of a "plot," is closer in its temporally truthful zeitgeist to Slacker than Dazed and Confused, but then again I was only 10 years old in 1976, whereas I lived through Austin in the Eighties. Regardless, this is Linklater at his best, recalling the relatively recent past intimately and with obvious affection, and, of course, with one hell of a killer soundtrack. I want some more.
See "A Team Effort," April 1, for an interview with producer Ginger Sledge and cast members.
A note to readers: Bold and uncensored, The Austin Chronicle has been Austin's independent news source for almost 40 years, expressing the community's political and environmental concerns and supporting its active cultural scene. Now more than ever, we need your support to continue supplying Austin with independent, free press. If real news is important to you, please consider making a donation of $5, $10 or whatever you can afford, to help keep our journalism on stands.
READ MORE
More Everybody Wants Some!!
How Everybody Wants Some!! re-created history
Richard Whittaker, April 7, 2016
More Richard Linklater
Richard Linklater: dream is destiny finally opens in Austin
Josh Kupecki, Aug. 28, 2016
No details on location of new two-screen cinema
Richard Whittaker, March 25, 2016
More Richard Linklater Films
Cate Blanchett steals away with what's left of her dreams in Linklater's coming-of-middle-age comedy
Marjorie Baumgarten, Aug. 16, 2019
Three veterans embark on a road trip in Linklater's latest
Marjorie Baumgarten, Nov. 10, 2017
More by Marc Savlov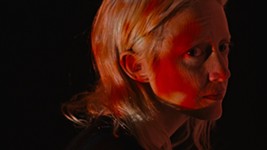 Identity melts in this psychotropic assassination brainblender
Oct. 2, 2020
Mangled Italian creature feature should be even shorter
Sept. 25, 2020
KEYWORDS FOR THIS FILM
Everybody Wants Some!!, Richard Linklater, Blake Jenner, Zoey Deutch, Will Brittain, Ryan Guzman, Tyler Hoechlin, Glen Powell, J. Quinton Johnson, Wyatt Russell, Austin Amelio, Temple Baker, Tanner Kalina, Juston Street, Forrest Vickery
MORE IN THE ARCHIVES