The Letters
2015, PG, 114 min. Directed by William Riead. Starring Juliet Stevenson, Rutger Hauer, Max von Sydow, Priya Darshini, Greg Heffernan, Mahabanoo Mody-Kotwal, Kranti Redkar, Tillotama Shome.
Remember those religious biopics the major Hollywood studios churned out for the faithful back in the day, movies about the lives of the saints, such as the virginal jeune fille who witnessed a beautiful lady in a Lourdes grotto (The Song of Bernadette) or the virginal (again) peasant maid of Orleans burned at the stake after leading her nation into battle (Joan of Arc), among others? Heavenly choirs, upturned faces, diffused light streaming from above: Hollywood fashioned a Roman Catholic mythos to elevate audiences with ennobling stories of simple people chosen by God to work miracles and behold sacred mysteries. Sure, it was a bunch of revisionist claptrap, but it inspired many an impressionable altar boy and convent school girl hoping to glimpse a vision or hear celestial voices, the lapsed yours truly included.
The Letters is a contemporary take on this dust-covered genre, mostly relating the early vocation of Mother Teresa, the renowned nun who served the poor in the slums of Kolkata, founded the still-thriving Missionaries of Charity, and received the Nobel Peace Prize in recognition of her life's work. Granted, the woman's no saint, technically speaking – she's a miracle short of canonization – but few today see her as anything less, and rightly so. But there's not much of the old-school uplift here to celebrate this remarkable person. The movie simply trudges along, tirelessly making its rounds, just like its holy sister walking impoverished streets with grim purpose. Indeed, the film purports to debunk the notion of Mother's Teresa's godliness by frequently referencing the titular missives, which allegedly revealed a lonely soul who experienced spiritual darkness and fears of abandonment during the course of her life. (By the fourth or fifth time the priests, played by von Sydow and Hauer, describe the contents of these letters, each time in an almost identical fashion, you may scream for divine intervention.) But God forbid the film actually read from those letters to give you a sense of this anguish or somehow convey her existential angst concretely through action rather than words. As Mother Teresa, the usually proficient Stevenson gets caught up in a sliding accent and humbling gestures that distract from the human being under the veil. It's a depressingly unformed performance, but you can't lay full blame on her for its one-dimensionality. The movie simply doesn't act on the dare to portray Mother Teresa as someone more complicated than the way the world otherwise views her, leaving you to wonder why it's titled The Letters in the first place. It may be the biggest mystery since the Immaculate Conception.
A note to readers: Bold and uncensored, The Austin Chronicle has been Austin's independent news source for over 40 years, expressing the community's political and environmental concerns and supporting its active cultural scene. Now more than ever, we need your support to continue supplying Austin with independent, free press. If real news is important to you, please consider making a donation of $5, $10 or whatever you can afford, to help keep our journalism on stands.
READ MORE
More Juliet Stevenson Films
Based on British poet Blake Morrison's written memoir, this film is a very particular yet universal story about the eternal knot between fathers and sons.
Marjorie Baumgarten, July 4, 2008
It's another Truman Capote picture about how the author wrote In Cold Blood – and it stands solidly on its own merits.
Marjorie Baumgarten, Oct. 13, 2006
More by Steve Davis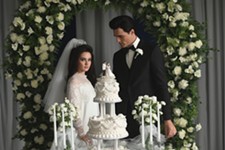 Measured journey behind closed doors of rock & roll's most famous marriage
Nov. 3, 2023
Ryan and Duchovny ponder the road not taken in magical rom-com
Nov. 3, 2023
KEYWORDS FOR THIS FILM
The Letters, William Riead, Juliet Stevenson, Rutger Hauer, Max von Sydow, Priya Darshini, Greg Heffernan, Mahabanoo Mody-Kotwal, Kranti Redkar, Tillotama Shome
MORE IN THE ARCHIVES