Jem and the Holograms
2015, PG, 118 min. Directed by Jon M. Chu. Starring Aubrey Peeples, Stefanie Scott, Juliette Lewis, Aurora Perrineau, Hayley Kiyoko, Molly Ringwald, Ryan Guzman, Nathan Moore, Barnaby Carpenter, Ryan Guzman.
Grrl power is illusory at best in the one-dimensional Jem and the Holograms, yet another manufactured showbiz cautionary tale about the pitfalls of manufactured showbiz stardom. The unintended irony almost drips off the screen in DayGlo colors, but the fan base of teenage females (and occasional gay boy) won't mind. For the generation weaned on social media, instant celebrity is just a like-like-like, tweet-tweet-tweet away in the viral democracy of the Internet. It's the Warholian version of fame measured in clicks rather than minutes.
Based on an obscure mid-Eighties MTV animated series, the film is a pastel explosion of pinks and purples chronicling the overnight musical rise of small-town girl Jerrica (Peeples) – rechristened "Jem," the diamond-in-the-rough nickname given her by her late father, an inventor – and her sibling bandmates as they navigate the perils of overnight notoriety in hot magenta war paint and fuchsia highlights. Predictably, these pop tarts' family ties begin to unravel when the dragon-lady mogul grooming the group (a cagey Lewis, having some fun here) manipulates our heroine, who struggles to remain true to herself – with the emotional support of the boss's hunky son, Rio (Guzman once again shirtless, which is a good thing). Along the way, real-life celebrities like Jimmy Fallon, Dwayne Johnson, and (egad!) Chris Pratt make cameo appearances as themselves, touting the Jemomania inexplicably gripping the country as a result of a static three-minute YouTube video and a couple of pop-up concerts with free admission. From the perspective of a 14-year-old girl, the movie makes it all look so easy, so attainable. If Jem can do it, I can do it. What hath Justin Bieber wrought?
Things get weird when a dormant contraption that Jem's father was working on at the time of his death comes alive, allowing him to orchestrate her life and career choices from the grave. When R2-D2 Jr. twirls and flaps like some plasticized robotic version of a cuddly puppy, the movie's sincerity dissipates into thin air like a hologram losing its juice and morphs into something that will befuddle adults, even when their adolescent offspring remain slightly wowed by the cool outfits and girly empowerment moves. Sure, Peeples has a nice (if unmemorable) voice, but the vapid storyline with fantastic overtones transports Jem and the Holograms into another dimension, one that's utterly flat. Control. Alt. Delete.
A note to readers: Bold and uncensored, The Austin Chronicle has been Austin's independent news source for over 40 years, expressing the community's political and environmental concerns and supporting its active cultural scene. Now more than ever, we need your support to continue supplying Austin with independent, free press. If real news is important to you, please consider making a donation of $5, $10 or whatever you can afford, to help keep our journalism on stands.
READ MORE
More Jon M. Chu Films
Joyful rom-com puts the American fish out of water among Asia's 1%
Kimberley Jones, Aug. 17, 2018
Now you can't un-see the second installment of Jon M. Chu's magical trilogy
Josh Kupecki, June 10, 2016
More by Steve Davis
Miyazaki's gorgeous but oddly obtuse return to animation
Dec. 8, 2023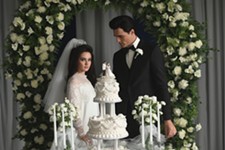 Measured journey behind closed doors of rock & roll's most famous marriage
Nov. 3, 2023
KEYWORDS FOR THIS FILM
Jem and the Holograms, Jon M. Chu, Aubrey Peeples, Stefanie Scott, Juliette Lewis, Aurora Perrineau, Hayley Kiyoko, Molly Ringwald, Ryan Guzman, Nathan Moore, Barnaby Carpenter, Ryan Guzman
MORE IN THE ARCHIVES