Stonewall
2015, PG-13, 129 min. Directed by Roland Emmerich. Starring Jeremy Irvine, Jonny Beauchamp, Joey King, Jonathan Rhys Meyers, Ron Perlman, Caleb Landry Jones, Matt Craven, Karl Glusman, Otoja Abit, Richard Jutras, David Cubitt, Andrea Frankle.
It's certainly a novelty that this fictionalized account of the 1969 Stonewall Riots that helped ignite the modern era of LGBT Pride has been directed by Roland Emmerich, a Hollywood filmmaker who's best-known for helming disaster pictures such as Independence Day, The Day After Tomorrow, and White House Down. Stonewall also arrives with a pedigreed script by two-time Pulitzer nominee Jon Robin Baitz. However, it's the film's total lack of novelty that causes it to misfire and become if not a total disaster, then at least a narrative flop.
Stonewall uses a device common to films set against historical backgrounds by anchoring the story in a naive protagonist who's a newcomer on the scene. Danny (Irvine) arrives on New York's famed Christopher Street fresh from Indiana, which he fled because of his homosexual proclivities. He's been shunned by his dad (Cubitt), the high school football coach, and denied by his former suck buddy, Joe (Glusman), the team quarterback. Instantly, Danny falls in with a ragtag gang of transgender hustlers and vagabonds who live hand to mouth (so to speak) and show him the ropes. In particular, Ray/Ramona (Beauchamp, in a strong performance) takes Danny under her wing, and introduces him to the bars and the Stonewall Inn, a mob-run hangout (like most of the gay bars of the time) for drag queens, trans men and women, gay prostitutes, and runaways. Danny, who hopes to start at Columbia University in the fall if he can get his parents to sign his scholarship paperwork, is so white-bread that he can only accept Ray's friendship while rejecting her fantasies for their domesticated bliss. Danny eventually hooks up with Trevor (Rhys Meyers), a member of the Mattachine Society, the male gay rights organization of the Fifties and Sixties that advocated acceptance and social integration.
Although the Stonewall revolt is condensed into one night of rioting rather than the several nights that actually occurred, historical accuracy is less the film's problem than its ham-handed narrative arc and dialogue. Nothing occurs in the movie that can't be predicted in advance. Maybe Stonewall will have more value to younger viewers for whom the riots and gay marginalization in general are distant history and might be vivified by watching the film. Yet even though the film's heart seems genuine, its structure is buttressed by falsies.
A note to readers: Bold and uncensored, The Austin Chronicle has been Austin's independent news source for over 40 years, expressing the community's political and environmental concerns and supporting its active cultural scene. Now more than ever, we need your support to continue supplying Austin with independent, free press. If real news is important to you, please consider making a donation of $5, $10 or whatever you can afford, to help keep our journalism on stands.
READ MORE
More Stonewall
Peter Rapp brings living memory to Austin Pride's Stonewall event
David Estlund, June 26, 2014
More Roland Emmerich Films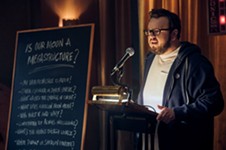 Disaster flick + Dyson sphere = Roland Emmerich's latest
Matthew Monagle, Feb. 11, 2022
Roland Emmerich goes all guns blazing recreating the pivotal sea battle
Marc Savlov, Nov. 8, 2019
More by Marjorie Baumgarten
Body doubles take on a new, sick meaning in this next gen Cronenberg horror
Jan. 27, 2023
The bulb glows dim in Sam Mendes' tribute to picture palaces
Dec. 9, 2022
KEYWORDS FOR THIS FILM
Stonewall, Roland Emmerich, Jeremy Irvine, Jonny Beauchamp, Joey King, Jonathan Rhys Meyers, Ron Perlman, Caleb Landry Jones, Matt Craven, Karl Glusman, Otoja Abit, Richard Jutras, David Cubitt, Andrea Frankle
MORE IN THE ARCHIVES