Tangerine
2015, R, 88 min. Directed by Sean Baker. Starring Kitana Kiki Rodriguez, Mya Taylor, Karren Karagulian, Mickey O'Hagan, James Ransone, Alla Tumanian, Luiza Nersisyan, Arsen Grigoryan, Clu Gulager.
It's Christmas Eve on the sun-kissed sidewalks of West Hollywood, and working girl Sin-Dee Rella (Rodriguez) is a woman scorned. Newly sober and back on the block, she and BFF Alexandra (Taylor, both transgender) are sharing a glazed breakfast at Donut Time when an unwitting revelation cuts short their happy reunion: During Sin-Dee's 28-day stint in rehab, her pimp boyfriend, Chester (Ransone), cheated on her with another sex worker, one who has "a vagina and everything." From there, the exuberantly one-of-a-kind Tangerine goes full throttle as its determined drama queen strides the L.A. boulevards, from Sunset to Santa Monica, in a full-rage search for an unknown female with a name beginning with the letter D, so she can confront the man who wronged her. In her synthetic Beyoncé wig, strategically unbuttoned Daisy Dukes, and knotted leopard-print crop top, she's a fierce-as-fuck Sasha energized by jealousy and anger as the clack-clack-clack-clack of her knockoff Gucci ankle boots on the pavement provides a percussive soundtrack for her hell-bent fury. As Alexandra (without skipping a beat) quips when asked whether Sin-Dee is back on the streets: "Oh yeah, she's back. And she's going hard."
Set in an urban demimonde rarely portrayed onscreen (or so unflinchingly), Tangerine celebrates the hot mess of its characters' lives with empathy and respect, never condescending to judge their actions. You don't pity these girls, though you may wish for something better for them. While the storyline darkens and sags a little as the long day journeys into night, a shady sense of humor born of an instinct to survive informs nearly every frame of the film. Sin-Dee and Alexandra bounce their conversations off each other like comic pinballs; the dialogue has the zing of improvisation in real life. Both of the newcomers who play them (Rodriguez and Taylor) come off like pros in every sense.
Tangerine's greatest accomplishment, however, lies with director Baker, who filmed the movie using an iPhone 5S. It's an amazing achievement – the fluidity of the camerawork is exhilarating at times, the intimacy of the close-ups sometimes unsettling. While not the first movie shot in this democratic medium, the accessibility of Tangerine may open up new worlds of cinematic possibilities. Anyone who loves the movies should see this film on these grounds alone, regardless of whether the subject matter interests you. The future is here and now.
See "A Walk on the Wild Side," July 24, for an interview with the director.
A note to readers: Bold and uncensored, The Austin Chronicle has been Austin's independent news source for over 40 years, expressing the community's political and environmental concerns and supporting its active cultural scene. Now more than ever, we need your support to continue supplying Austin with independent, free press. If real news is important to you, please consider making a donation of $5, $10 or whatever you can afford, to help keep our journalism on stands.
READ MORE
More Tangerine
Sundance fave Tangerine is loud and proud
Sarah Marloff, July 24, 2015
More Sean Baker Films
Simon Rex gets under the skin of this year's most fascinating scumbag
Trace Sauveur, Dec. 17, 2021
Life in the happiest place on Earth
Marjorie Baumgarten, Oct. 13, 2017
More by Steve Davis
Miyazaki's gorgeous but oddly obtuse return to animation
Dec. 8, 2023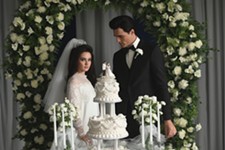 Measured journey behind closed doors of rock & roll's most famous marriage
Nov. 3, 2023
KEYWORDS FOR THIS FILM
Tangerine, Sean Baker, Kitana Kiki Rodriguez, Mya Taylor, Karren Karagulian, Mickey O'Hagan, James Ransone, Alla Tumanian, Luiza Nersisyan, Arsen Grigoryan, Clu Gulager
MORE IN THE ARCHIVES